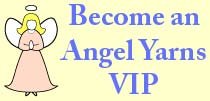 What's New April
Archive
Earlier 'What's New' page here...
August September October November December January February March
Sale:
Discount Yarn Sale - More Yarns Included
Jaeger Celeste - 40% OFF
Jaeger Mohair Art - 40% OFF
Jaeger:
Jaeger Roma - Deliciously soft yarn from Jaeger
RYC:
Natural Silk Aran - Gorgeous soft and silky yarn
Luxury Cotton DK - Silky and sophisticated cotton, viscose and silk blend
Noro:
Hana Silk - Wow! Lovely silk yarn from Noro
Clover:
Artesano Alpaca:
Artesano Alpaca Patterns - Some georgeous patterns from Jean Moss
Angel Yarns:
Hand Painted Silks - New colourways...
Lacy Scarf - Very feminine scarf in either of the 3 Rowan Kidsilks
Opulencia Scarf Crochet Kit - Frilled scarf in Artesano Alpaca and Opulencia
Sorbet Wrap Knitting Kit - Stunning Wrap kit
Bergere de France:
Patterns - Even more!
Ideal - Great colourways and hardy too
Mousson - A hardy yet snuggly yarn
Berlande - Unshrinkable worsted wool
RYC:
Soft Tweed - Soft and sophisticated chunky weight tweed
Stitch Diva:
New Accessories Patterns - New Bags and Hats
New Skirt Pattern - A hairpin lace exotic yet modern peasant skirt
Opal:
Petticoat - Now back in stock and More Colours!
Petticoat Cotton - Delightful new range from the ever popular Opal
Saphir - New 'sweater' yarn from Opal
Sirdar:
Pattern Books - 4 new books from Sirdar
Luxury Soft Cotton DK - One of the softest yarns around
Loopa - A craft sensation! Creativity with no knitting skill required
Bergere de France:
Patterns - Lots more added