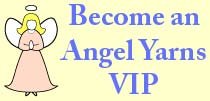 What's New September
Earlier 'What's New' page here...
Sale:
Jaeger Celeste - 40% OFF
Jaeger Mohair Art - 40% OFF
Laines du Nord:
Cocotte - Lovely and soft and comes in a range of 4 wearable colours
Kiddy Print - Beautiful variegated mohair mix
Madras - Wonderful boucle effect yarn, spun with a ribbon to get a lovely fluffy/shiny mix
Modella - Funky fashion yarn with fluffy accents
Opaline - Chunky boucle yarn in a selection of 4 variegated colours
Louisa Harding:
Fauve - A suede ribbon with a soft shaded effect
Impression - A lovely soft and very feminine yarn
Kashmir Aran - A lustrous blend of merino wool, microfibre and cashmere
Kashmir DK - DK version of above!
Kimono Angora - Comes in eight variegated colourways
Kimono Ribbon - All eight colourways compliment the shades of Kimono Angora
Sari Ribbon - Stunning silky ribbon yarn in six tropical shades
Filati FF:
Polar - Soft and colourful chunky slub yarn
Kaalund:
Enchanté (Mulberry Silk) - A fine, baby soft silk that is just really really lovely - Pre-Order
Nimbus - Simply the softest and prettiest mohiar boucle yarn out there! Pre-Order
Adriafil:
Carezza - A wonderful classic blended angora
Mohair Stretch - Ultra fluffy mohair mix that's incredibly soft to touch
Party - Chunky yarn with metallic accents added at intervals
Angel:
Debbie Bliss Cashmerino Superchunky Shrug - Soft and luxurious
Lacy Cardigan - Ultra feminine and lacy tie front cardigan
Angora Capelet - Deceptively easy to make ultra luxurious extravagence!
Noro Blossom Shrug - So very colourful
Stitch Markers - Even more!
Angel Jewellery Sale - Beautiful Hand Made Bracelets
Jordana Paige:
Messenger Bag - The latest from Jordana, in Camel and Navy
Stitch Diva:
New Hats - New crocheted hats patterns
Hairpin Lace and Knit Cardi Wraps - Very elegant crochet and knit patterns
Slinky Fitted Shrug - Smart fitted shrug crochet and knit pattern
Surina:
Crochet Hooks - New sizes and Tunisian (Afghan) hooks too
Filati FF:
Kristha Metallic - A seasonal giant! Metallics are very 'in' this season
Oslo - Fabulous fun fashion yarn