Vogue Knitting Spring / Summer 2006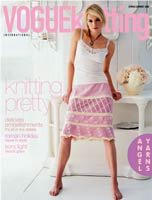 Get your copy Now!
This summer, whether you're holidaying on the Mediterranean, in an Italian villa, down on the farm, or the hot streets of the city, you'll not want for a wardrobe....
Vogue Knitting's Spring 2006 issue is bursting with breezy, beautiful knits sure to evoke the feeling of being on holiday…even if you stay indoors.
Join the jet set in dazzling beachwear in the colors of the Mediterranean.
There's even an up-close-and-personal impression of the British wool industry by Betsy Greer.