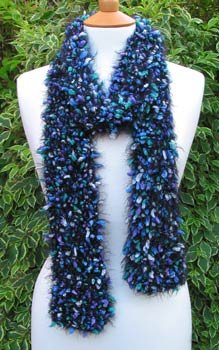 Free Knitting Patterns
Angel Yarns
Free Knitting Project

This simple scarf is knitted in garter stitch, meaning you just knit every row. Ideal for beginner knitters and advanced knitters alike, it's fast to complete and you'll be wearing it in just a few hours.
Shown in Lanartus Clown shade 10151
Materials needed:
2 x Lanartus Clown and 7mm straight needles
Instructions
Cast on 21 stitches using Lanartus Clown.
Knit to desired length and cast off.
Happy Knitting!
Copyright © 2005 Angel Yarns -
All rights reserved. This material may not be published, broadcast, rewritten or redistributed in whole or parts.

Angel Yarns, UK - Website: www.angelyarns.com

Go back