Superchunky Shrug by Tess Dawson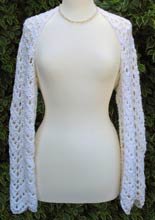 This lovely shrug, designed by Tess Dawson, is crocheted in Debbie Bliss Cashmerion Superchunky.
The sleeves have a lacy effect ending in a wavy cuff.
The Shrug kit includes enough Superchunky, a crochet hook and the exclusive free crochet shrug pattern.
See all the Cashmerino Superchunky colourways here...
---