Beth Russell Acanthus Leaves Cushion / Chair Seat Needlepoint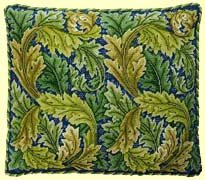 Acanthus leaves are almost a trademark of William Morris designs and here he devotes the entire area to this most adaptable plant.

The original watercolour design is in the Victoria & Albert museum, London.

This design can fit naturally into a chair seat. If necessary the corner leaves may be omitted to accommodate the back struts or front legs.

Click image for larger version

Stitch: Tent stitch worked with one thread

Size 16.5" x 19.5" (42cm x 49cm)

This beautiful needlepoint kit contains
12 count printed Zweigart de luxe canvas and Appleton wool. Full instructions, needle and calico cotton tidy bag are also included.
Beth Russell Acanthus Leaves Cushion / Chair Seat
Price of Embroidery Needlepoint Kits includes VAT at 15%
VAT is deductible for Overseas orders and the approximate US$ price is $131.10 (for deliveries outside the EU)
See what is in the kits Here...