Beth Russell Eden Cushion / Chair Seat Needlepoint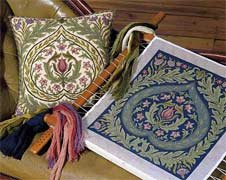 The influence of the East can clearly be seen in Eden, designed by Henry Dearle in 1905.

Dearle was both William Morris's pupil and his successor, taking over Morris & Co. on his death in 1896.

Choice of indigo or ivory backgrounds.

Click image for larger version

Stitch: Tent stitch worked with 3 threads

Size 16.5" x 16.5" ( 42cm x 42cm)

This beautiful needlepoint kit contains 14 count printed Zweigart de luxe canvas Appleton wool. Full instructions, needle calico cotton tidy bag are also included.
Beth Russell Eden Cushion / Chair Seat
Price of Embroidery Needlepoint Kits includes VAT at 15%
VAT is deductible for Overseas orders and the approximate US$ price is $111.19 (for deliveries outside the EU)
See what is in the kits Here...