Beth Russell Frogs Cushion / Picture Needlepoint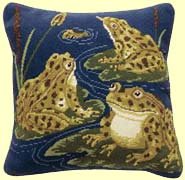 William De Morgan ceramic tiles inspired this Beth Russell needlepoint kit.

De Morgan was talented in many fields, particularly stained glass and pottery. De Morganís tiles and highly glazed pottery are now in the collections of museums all over the world.

The kit's de luxe canvas from Zweigart is the best available. Strong and polished, it is most pleasurable to stitch and will not fluff the wool. It will also withstand the rigours of stretching and long wear. The printing is the best in the world; it is done from the stitched piece and the clarity and colours are quite outstanding.

It is also impossible to improve on the colours of the superb range of yarns by Appleton, a company that was established in William Morris' lifetime. They provide the perfect shades to reproduce the slightly faded colours that he so loved.

Beth Russell writes the detailed instructions herself with the intention of making the stitching of each kit as simple and enjoyable as possible.

Click image for larger version

Stitch: Tent/Basketweave

Size 14" x 14" (35.5cm x 35.5cm)

This beautiful needlepoint kit contains 12 count printed Zweigart de luxe canvas and Appleton wool.
Full instructions, needle and calico cotton tidy bag are also included.
Beth Russell Frogs Cushion / Picture
Price of Embroidery Needlepoint Kits includes VAT at 15%
VAT is deductible for Overseas orders and the approximate US$ price is $94.59 (for deliveries outside the EU)
See what is in the kits Here...