Knitting Tutorial for the PC
Great for Christmas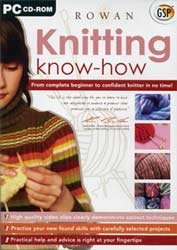 From complete beginner to confident knitter in no time at all!
Rowan Knitting Know-How is the best and most effective teach-yourself knitting tutorial available. This program is the perfect solution for anyone who wants to learn how to knit. With its easy-to-follow layout and over 30 interactive video clips, knitting Know-how gives you everything you need at your fingertips to learn how to knit quickly and easily.
With a series of unique features and covering skills from how to hold the needles, casting on and off, right through to finishing off and sowing seams, this program is the perfect tool to learn all about knitting.
It is the UK's first structured, interactive CD Rom tutorial and with high quality video demonstrations, practical tips and guidance every step of the way, you will become a confident and creative knitter in no time at all.
Covers all the skills and techniques of knitting e.g. holding the needles, casting on and off, sewing seams.
Comprehensive background information e.g. choosing the right yarn and equipment, understanding tension.
Over 30 interactive video tutorials, each with full control e.g. play, stop, rewind, audio narrative and text, so you can learn at your own pace.
Video demonstrations filmed from the knitters view point clearly show correct techniques, to copy and listen – easier than trying to follow text in a book.
Troubleshooting section helps you to prevent, spot and correct mistakes e.g. picking up dropped stitches.
Short and simple practice exercises help you to learn a new technique and then practice it before moving on to a new project.
Practical help and advice in the form of pop-up tips on how to achieve successful results.
Links to the Reference Sections for supporting information, without breaking the flow of the learning and practice.
Minimum System Requirements:
Windows® 98/Me/2000/XP
Pentium II 300Mhz processor
64 MB RAM
8MB graphics card
16 bit colour screen