Sock Kits with Self Patterning Sock Wool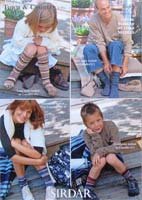 Sirdar's Town and Country Sock Kits are fantastic fun!
The sock kits come with everything you need to get going, double pointed needles, pattern, yarn and some of our famous Angel Yarns hand made stitch markers.
Before you decide, you may also want to see our very popular Opal and Regia kits as well.
Happy knitting!
Sock Kits available in Sirdar Sock Yarn
All prices include VAT at 15% - VAT is deductible for Overseas orders