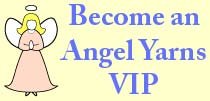 What's New August
Earlier 'What's New' page here...
Sale:
Jaeger Celeste - 40% OFF
Jaeger Mohair Art - 40% OFF
Noro:
Noro Kochoran - Back in stock
Buttons:
New Hand Made Ceramic Buttons - We added to this range
New Latin American Hand Made Buttons - New from Tumi
Adriafil:
Odeon Lamé - The softest lamé we have found
Patons:
Baby Pure Wool - 2 & 3 Ply wool for your little ones
Spritz - A sparkly fashion yarn
Rowan:
Big Wool Fusion - A new twist on the much-loved Big Wool
Soft Baby - Available in a palette of pastel shades it's gentle enough for the softest skins
Spray - Bring a splash of colour into your life
Kidsilk Night - Kidsilk Haze with added sparkle! Going to be very popular this season
Kidsilk Spray - Variegated Kidsilk Haze
Rowan Buttons and Buckles - Finally managed to get them all up!
Debbie Bliss:
Alpaca Silk DK - A DK version of Debbie's luxuriously soft Alpaca Silk
Cashmerino Chunky - Finally, a chunky addition to the cashmerino range!
Cashmerino Astrakhan - Wonderful new boucle effect yarn from Debbie's autumn range
Artesano Alpaca:
Jean Moss Slinky Shaw - Another lovely pattern from our favourite designer
Elle:
Pizzazz - Very funky new yarrn from Elle
Encore - Another funky new yarn from Elle
Angel:
Rio Shawl - A very sophisticated and pretty shawl
Indian Summer Shawl - Tess Dawson Design - very popular
Trellis Bolero - Our most popular ever!
New Tess Dawson Crochet Bag Kits - Fun crochet bags
Angel Jewellery Sale - Beautiful Hand Made Bracelets
Lanartus:
Gaucho Sweater Kit - Lovely Kit
Rio Open Sleave Sweater Kit - Great kit in a wonderful fashion yarn
Sirdar Yarn:
Sirdar Curly Wurly - A really fun yarn, great for girls of all ages
Sirdar Tuscany - Fantastic colour and texture for both your funky and dressy projects
Sirdar Frenzy - A riot of colours and textures with Fizz-like flags
Sirdar Tiny Tots - Pastel hues and a lovely soft feel for your favourite little ones
Sirdar Tufty - Cute yarn that's perfect for knitted gifts
Sirdar Boa - Lovely new eyelash yarn from Sirdar with great pattern support - another classic!
Sirdar Foxy Fur - New colours
Sirdar Patterns - Exactly that!
GGH:
Soft Kid - Soft & light with a wonderful feel - a super kid mohair
Rebecca:
Knitting Magazine 30 - 56 Rebecca designs exclusively with you in mind
Super Kid Mohair Special - 30 soft and cuddly designs with super kid mohair