Knitting and Felting Kits
Due to great demand we have added these knitting kits with patterns by Black Sheep Bags.
Whether knitted or felted we think you'll have fun with these wonderful knitting kits.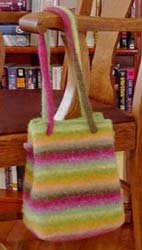 Booga Bag Kit
Using Noro Kureyon this felted bag is great fun!
Measuring approximately 4½" X 7½" X 8½" this bag kit is a perfect start for a first time felting project.
Booga Bag Kit includes pattern, enough Kureyon yarn, knitting needles and double pointed needles to complete it in no time at all!
(Washing machine for felting not included)
---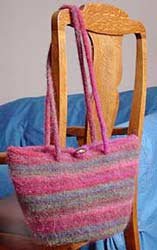 Lily Bag Kit
Designed to be an everyday handbag or a small project tote. Once again it is knitted in Noro Kureyon and for this bag the bottom is oval and the sides gently flare out.
Finished size 5 ½" X 8 ½" at base (13" at top) X 9" for bag made with Noro Kureyon.
(Washing machine for felting not included)
---