Funky Fashion Tie by Tess Dawson
You may also want to take a look at our crocheted ponchos patterns.
Learn to crochet with instructions here
Click photo to see larger image.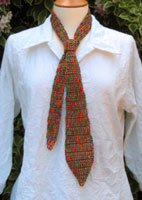 Funky Tie Kit
Designed by Tess Dawson and crocheted in Adriafil Swing, this funky tie is sure to catch everyone's eye this summer with its bright, pretty colours.
A really simple pattern to follow, easy enough for a beginner this kit comes complete with everything you need to make the finished tie.
A free stitch guide is included along with crochet hook, enough yarn and free pattern to get you going.