Tess Dawson's Fashion Belt Kit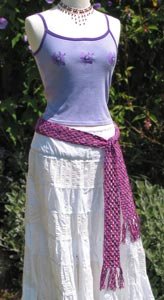 Funky crocheted belt made in South West Trading's Oasis which is the lovely soft soy silk yarn. It is made in an easy shell stitch so it's of our easy crochet patterns and ideal for a beginner.
Trim the tassels with beads for a more ethnic look or just leave plain with or without tassels if you prefer.
This crocheted belt looks great teamed with floaty skirts or jeans - go on, let your inner hippy out!
Click picture for a better view.
See all the South West Trading Oasis colourways here...
All prices include VAT at 15% - VAT is deductible for Overseas orders
---