NEW - Brittany Birch Needles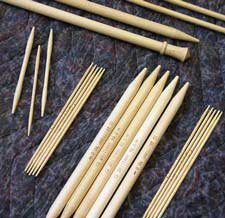 Made in the U.S.A of Birch, wood is our greatest renewable natural resource. Environmentally friendly, recyclable, biodegradable and durable.
Why buy Brittany needles? Probably the best reason has to do with the benefits of wood. Wood is warm, smooth and soft. It won't drain heat from sensitive fingers the way aluminium and plastic needles do.
Birch is a superior wood for knitting, its tensile strength and stability maintains size, resists warping and allows for smoothness of finish no other needle can provide.
All wood used by Brittany comes from strictly regulated forests or small woodland owners in the United States ensuring proper environmental logging practices and selective cutting for maximum reforestation.
The Brittany Guarantee: All Brittany products are guaranteed for five years against flaws and breakage from normal use.
---
Brittany Double Pointed Knitting Needles 5 Inch
5 Inch, 5 Per Pack



All prices include VAT at 15% - VAT is deductible for Overseas orders
Currency Converter
Brittany Double Pointed Knitting Needles 7.5 Inch
7.5 Inch, 5 Per Pack



All prices include VAT at 15% - VAT is deductible for Overseas orders
Currency Converter