A New Concept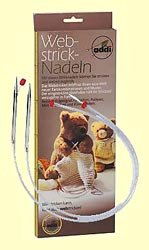 Weave and knit at the same time!
Two hollow circular needles with the classic Addi Turbo finish.
How do these needles work? You thread a yarn through each of the needles and then knit with another yarn. Laying the yarn that goes through the needles across your work, weaving it in with knit stitches using the third yarn. Using this technique you can be knitting with three different colours at once.
It's a lot less complicated than it looks, if you can knit, you can weave-knit.
Results are in a handwoven look.
A great slide show of pictures here...
No Longer Available