Inside the Embroidery Kits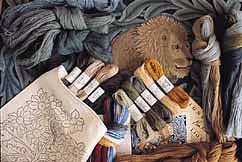 The materials are by far the most valuable part of any needlepoint kit and Beth Russell is dedicated to ensuring that your stitching is spent enjoyably by providing the best materials to work with.
The miniature kits and rugs are printed on Zweigart interlock needlepoint canvas with all the other kits on the excellent Zweigart mono de luxe canvas. The mono de luxe is smooth, a joy to use and strong enough to endure the rigours of stretching and upholstering.
Beth Russell has chosen the best needlepoint canvas printer and each colour is separately printed by hand. The colours of the printing inks are specially matched to the wools but are made different enough from each other to clearly show the beginning and end of each shade.
The wools are from the gently coloured Appleton range - 4ply tapestry or 2ply crewel depending on the gauge of canvas.

Tent stitch, a single sloping stitch (also called continental or basketweave), is used for most of the kits with cross stitch used for the rugs.
The needles are Tapestry sizes 16 - 22 depending on the gauge of canvas and eEach kit has its own dedicated detailed instructions, written by Beth with the intention of making the stitching as simple and enjoyable as possible. The kits are simply packaged - the investment is in the materials.
Each kit of cushion/pillow size or larger also comes with a useful calico bag to keep your wools dust free.
See all the Beth Russell needlepoint kits here...
Alternatively, see our Glorafilia embroidery kits here...