Huge Ball of Self Patterning Yarn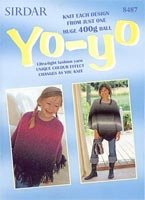 Sirdar Yo-Yo is 400g of fantastic fun!
With more than 12 patterns including ponchos, sweaters, mittens, hats, scarves, leg-warmers and wrist-warmers you just won't know where to start with this great idea from Sirdar.
Each ball of this ultra-light fashion yarn is designed to change colour as you knit producing a fabulous colour effect.
Act fast, we sold several of these Yo-Yo's even before we added them to our web site!
Please Note: Not all patterns shown are included in the pattern book.

Click photos to see a larger image. Photos shown are representative of the colourways only
Storm
Cloud
Midnight
Mood
Purple
Haze
Fudge
Damson
Mist
Plum
Lilac Time
Moss
Turquoise Whirl
Nocturne
Magenta