Angel Yarn's Exclusive Patterns
We are going to be adding more and more of our exclusive and very easy to follow crochet and knitting designs so check back often.
You may also want to take a look at our crocheted ponchos patterns.
Learn to crochet with instructions here
Click photos to see larger images.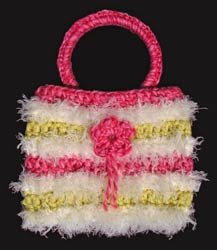 'Frilly' Bag Kit
Designed by Tess Dawson and crocheted in Rowan Big Wool and Jaeger Fur, this funky frilly bag is sure to catch everyone's eye this summer and you'll be getting admiring glances wherever you go!
Crocheted items being all the rage this season you'll be the envy of all your friends.
The kit comes complete with everything you need to make the finished crocheted bag. A free stitch guide is included along with crochet hook, enough yarn, bamboo handles and free pattern to get you started.
---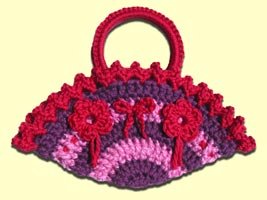 Fan Bag Kit
Yet another design by Tess Dawson and crocheted in Rowan Big Wool. This cute and funky fan bag is sure to catch everyone's eye wherever you go!
Crocheted items being all the rage this season you'll be the envy of all your friends.
The kit comes complete with everything you need to make the finished crocheted bag. A free stitch guide is included along with crochet hook, enough yarn, bamboo handles and free pattern to get you started.
---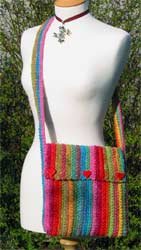 'Hippy Chic ' Bag Kit
Crocheted in Noro Iro No.18, this funky bag is sure to catch everyone's eye this summer with its bright, pretty colours.
The hand painted ceramic buttons really finish the bag off in style and with crocheted items being all the rage this season you'll be the envy of all your friends!
A really simple pattern to follow, easy enough for a beginner this kit comes complete with everything you need to make the finished bag. A free stitch guide is included along with crochet hook, enough yarn, buttons and free pattern to get you started.
---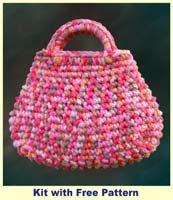 'Jelly Bean' Bag Kit
Crocheted in Sirdar Bigga Yarn, this simple but sweet bag is fun, useful and very quick to make. Line it and use it for everyday or use it to keep your knitting projects in!
Unlike many other bags it sits upright independently due to the square bottom so will not tip all your precious things out!
Crochet kit includes enough Sirdar Bigga crochet yarn, bamboo handles, a crochet hook and one of our free crochet patterns. The bamboo handles are fair trade too.
---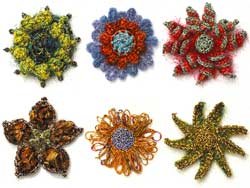 Crochet Flower Pattern
Crochet Pattern
Flowers make the perfect embellishments for hats, felted bags, ponchos, sweaters, baby blankets, scarves, wraps and more! This 'toolkit' of unique and eye-catching flower designs includes 6 different flowers featured in 2 different yarn selections. We then provide you with guidelines, tips and techniques to help you make these flowers with yarns in the gauge, texture and colours of your choosing.
Whether you use scrap yarn, a treasured yarn from your stash or some of the non-yarn materials suggested - these flower patterns will provide useful assistance and is sure to become a staple in your pattern collection for years to come.
---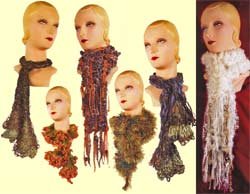 Decidedly Different Scarves Collection
Knitting & Crochet Pattern
This collection of scarves presents three truly unique scarf designs. Part scarves, part jewellery, part wearable art - the versatility of each design is showcased by examples using two different sets of yarns selections. Two knitting patterns and one Tunisian crochet pattern is included.
For those days when you want to stand out of the crowd, these scarves are a fun way to get noticed for your creativity and style.
---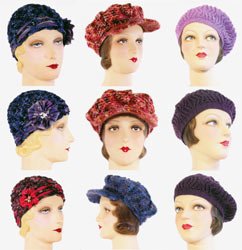 Knit Hats Pattern Collection
Knitting Pattern
Bad hair day? Good hair day? It doesn't matter: Try one of these knit hats on for size and you'll look pretty and poised no matter what kind of day you're having. We've taken a diverse selection of the freshest current hat styles and provide a range of skill levels and yarn suggestions to make your knitting fly. No matter what the season, just choose a yarn, grab your needles, and you'll soon be wearing a fashionable chapeau that is custom-made for your fashion situation.
Ribbon Beanie: Simply romantic, the style of this little beanie is just as relevant today as it was in the 1920's and 30's when simi liar styles were popular. A cinch to work up with bulky ribbon yarn, the beanie hat also features a clever and simple ribbon finishing technique that you are sure to use on many projects to come.
Page Boy Hat: Bored of ladylike chic? Why not go funky seventies babe with a sassy attitude to match? A perfect casual accessory, this hat is great for everyday where or attach a rhinestone brooch and you are ready for a night on the town. Bulky weight wool helps this hat work up quickly, and the felted brim is fun and easy to make.
Parisian Beanie Beret: This updated classic, part-beanie / part-beret makes the perfect fit for an array of fashion situations. Featuring a delicate stitch pattern and just-right proportions, once you work this classy beret up, you may not be able to take it off...
---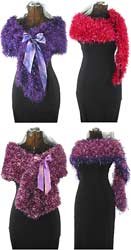 Furry Wraps Collection
Knitting & Crochet Pattern
Strut your diva style with one of these glamorous wraps! Decadently furry and deluxe, we present two luscious wrap styles that you can create using knit or crochet. Best of all, you will have lots of time to enjoy your night out since these projects are so simple, easy and fast!
Lush Ribbon Wrap: This luxurious garment is ultra-simple and fast to work. One side of this wrap is passed through a slit in the other side then neatly secured with a pretty and functional bow. The slit is made like a large, vertical buttonhole and our examples feature two interchangeable alternatives for ribbon and yarns.
Versatile Vegan Stole: Ring-shaped, this ingenious design lends itself to unlimited configurations for wear. The unique shape conforms naturally to the body, alternatively clinging and spilling over the shoulder in gentle curlicue cascades. Worn alone or with a stylish brooch, this stole clings so well you'd swear it was alive!
---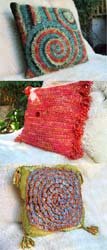 PillowTalk Exploration Collection
Cushion covers are smaller and faster than afghans, and make the perfect, quick gift for any season. The cushion covers offered in this collection present 3 very different projects requiring varying degrees of skill:
The Spiral Exploration Cushion Cover is stunning. It was designed as a freeform exercise in spirals. The instructions provided within this pattern not only present a transcription of the freeform stitches that were used, but also present guidelines to assist you with your own spiral explorations with crochet.
The Tunisian Cushion Cover is an easy and versatile project to occupy the hands while the mind roams freely elsewhere. This classic pattern will fit with any home decor. This versatile cushion cover can be easily transformed by different button and finishing options. And since it works up so quickly, you'll have time to make one for everyone on your gift list!
Opulent and ultra-feminine, the Secret Boudoir Pillow can also stand on its own as a showpiece of fiber art. Also constructed as a spiral, the stitches of the Secret Boudoir Pillow are simple: it is the finishing of the work that requires concentration and experience.
Whatever one's skill level or home decor preference, this collection of cushion covers offers an opportunity to explore new techniques and create one or more enduring jewels of colour to sprinkle about your own or a loved one's home.

---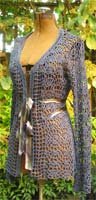 Baroque Ladies Jacket
This lacy crochet jacket exemplifies the feminine, romantic look so popular on the runways now. The jacket is designed to be form-fitting, worn over a simple dress, tank top or halter. A key to the design is an ornate fan-pattern stitch motif, which provides flaring at the sleeves and at the waist without the need to increase or decrease. The crochet jacket design also features accentuation of the waist with 2 luxurious silk ribbons, and the change in stitch direction at the lower rear lends a subtle bustle-like effect.
---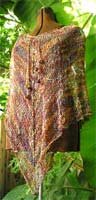 Knitted Poncho Pattern - Art Nouveau
Reminiscent of a bohemian garment from the early 20th century, this knitted poncho also alludes to the earthy styles of the 70's. Great as a light summer cover, the poncho also works well as evening wear for any season. A fine, hand-dyed yarn lends depth and dynamism to this simple design knitted up in the round on chunky needles. Finished with a beaded neck cord, this lacy poncho delivers romance from a bygone era.
---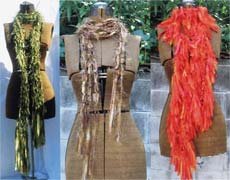 Ribbon Scarves Collection
These stunning ribbon scarves can be crocheted at lightning speed. They are perfect accessories for spring and summer:
They are light and shimmery, appropriate for both day and evening wear.
Along with shawls and ponchos, scarves are the "it" accessory of the season, they transform your ordinary outfit into the extraordinary.
Just check out what the celebs are wearing - chances are that whatever they're wearing, they're pairing with a long, dramatic scarf, wrapped once tightly around the neck with ends draping down to the waist, hips or even below the knees!
Reptile Scarf: The slinky green reptile scarf can be crocheted from start to finish in under 2 hours using 100 yards of ribbon and 100 yards of novelty yarn. Long and dramatic - this scarf steals the show!
Wet Ropes Scarf: This scarf can be crocheted in under an hour using only 50 yards each of ribbon yarn and novelty yarn. Well-suited for daytime wear at the office with a power suit, it would look equally stunning with a simple strapless dress for evening wear. The scarf is constructed as a connected series of "ropes" that can be artfully arranged into different drapes around your neck and shoulders.
Lipstick Diva Scarf: This scarf can be crocheted in about 3 hours using 100 yards each of ribbon and novelty yarn. You make a statement with the lipstick diva scarf the moment you enter the room. The scarf is quirky, flirty and fun.
---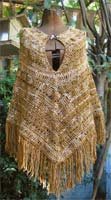 Hiawatha Poncho Crochet Pattern
This crocheted poncho is rustic, warm and sexy - a unique combination that will have you looking great and feeling cozy as the weather begins to chill. The poncho looks great as a casual statement over a simple sweater with boot-cut jeans, yet would also work with a suede skirt and knee-high boots for a dressier look. It works up fast using a heavy worsted yarn and is crocheted in the round from the top down, in order to provide optimum fit and almost zero finishing.
An interesting and simple technique is used for weaving separate strands of yarn into the fabric while the poncho is being worked. So go ahead! Grab yourself some yarn, a hook and settle down by the fire with a friend or with a few of your favourite movies. You'll not only have fun, but you will quickly end up with a poncho that expresses that eternal free spirit within.
---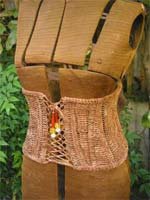 Outerwear Corset Crochet Pattern
The corset has been used for centuries as an undergarment. The historic practice of accentuating the feminine waist has made a comeback- this time as outerwear. Similar to the corsets appearing on runways this season, this corset is meant to be worn much like a belt, over a tailored stretch shirt or a skimpy tank top.
Not only does it define the waist, it gently flattens the tummy, providing the flat abs one may not have the time or discipline to acquire at the gym. This corset is crocheted over boning by using a mix of standard and Tunisian crochet techniques. The rows of Tunisian Crochet serve to provide firm structure, while the rows of standard crochet not only provide textural counterpoint, but provide openness and ventilation to the design as well.