Beth Russell African Marigold Needlepoint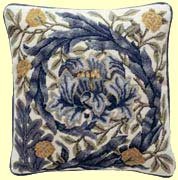 Designed by William Morris in 1876 as a cotton chintz, African Marigold was block-printed by Thomas Wardle using natural Prussian blue dye.
This interpretation for needlepoint recaptures the faded look of Morris's preliminary watercolour sketch which is in the collection of the William Morris Gallery at Walthamstow.

Beth Russell took the centre of the lovely watercolour for the cushion and later the whole painting was slightly adapted to turn it from a repeating pattern to an almost symmetrical rug, with a leaf border added.

Click image for larger version

Stitch: Tent/Basketweave

Size 15½" x 15½" (39cm x 39cm)

This beautiful needlepoint kit contains
12 count printed Zweigart de luxe canvas Appleton wool. Full instructions, needle,
calico cotton tidy bag are also included.
Beth Russell African Marigold
Price of Embroidery Needlepoint Kits includes VAT at 15%
VAT is deductible for Overseas orders and the approximate US$ price is $94.59 (for deliveries outside the EU)
See what is in the kits Here...