Beth Russell Artichoke Cushion / Chair Seat Needlepoint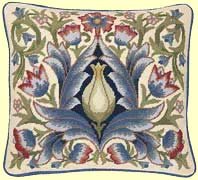 This superb design was originally produced by Morris as an embroidery kit.
Some of these may be seen at the William Morris Gallery, the Victoria & Albert Museum and the Fitzwilliam Museum, Cambridge.

Click image for larger version

Stitch: Tent/Basketweave

Size 14.5" x 16" ( 37cm x 40.5cm)

This beautiful needlepoint kit contains 12 count printed Zweigart de luxe canvas Appleton crewel wool.
Full instructions, needle and calico cotton tidy bag are also included.
Beth Russell Artichoke Cushion / Chair Seat
Price of Embroidery Needlepoint Kits includes VAT at 15%
VAT is deductible for Overseas orders and the approximate US$ price is $111.19 (for deliveries outside the EU)
See what is in the kits Here...