Beth Russell Fox Cushion / Picture Needlepoint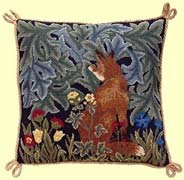 'The Forset' was woven in 1887 at Merton Abbey; it measures a magnificent 4 x 15 ft and is now in the collection of the Victoria & Albert Museum, London. Featuring a peacock, a hare, a lion, a fox and a raven, this unique medieval fairy-tale of a tapestry was designed by William Morris, who also oversaw the weaving. He was assisted by two colleagues: Philip Webb drew the birds and animals and Henry Dearle the foreground. The needlepoint kits are a more practical size and retain the flowing shapes and gentle shading of the original.

The kit's de luxe canvas from Zweigart is the best available. Strong and polished, it is most pleasurable to stitch, will not fluff the wool and will also withstand the rigours of stretching and long wear. The printing is the best in the world, done from the stitched piece and the clarity and colours are quite outstanding.

Beth Russell writes the detailed instructions herself with the intention of making the stitching of each kit as simple and enjoyable as possible.

Click image for larger version

Stitch: Tent/Basketweave

Size 14" x 14" (35.5cm x 35.5cm)

This beautiful needlepoint kit contains 14 count printed Zweigart de luxe Canvas Appleton wool.
Full instructions, needle and calico cotton tidy bag are also included.
Beth Russell Fox Cushion / Picture
Price of Embroidery Needlepoint Kits includes VAT at 15%
VAT is deductible for Overseas orders and the approximate US$ price is $111.19 (for deliveries outside the EU)
See what is in the kits Here...