Beth Russell Fruits Cushion / Picture Needlepoint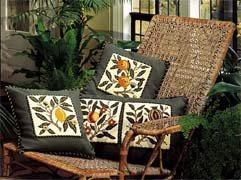 William Morris designed and printed his "Fruit" or "Pomegranate" wallpaper in 1862 at Red Lion Square in London. Lemons, oranges, peaches and pomegranates would all have been seen in the conservatories of the larger Victorian houses and Rossetti painted many famous portraits of Morris' wife Janey holding a pomegranate.

Beth Russell has produced four charming needlepoint kits based on the William Morris wallpaper design. They make ideal projects for beginners or to take on holiday. Their size can make small cushions, perfect for the small of our troublesome backs - or may be inserted onto larger cushions - or mounted side by side in a bolster-shaped pillow.

Stitch: Tent/Basketweave

Size 8" x 8" ( 20cm x 20cm)

This beautiful needlepoint kit contains 12 count printed Zweigart de luxe canvas and Appleton wool.
Full instructions and a needle are also included.
Beth Russell Fruits Cushion / Picture
Price of Embroidery Needlepoint Kits includes VAT at 15%
VAT is deductible for Overseas orders and the approximate US$ price is $54.76 (for deliveries outside the EU)
See what is in the kits Here...