Beth Russell Greenery Fox and Pheasant Needlepoint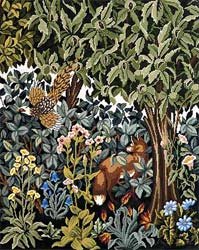 Greenery Fox and Pheasant Firescreen / Hanging / Picture Henry Dearle, Morris' first weaving apprentice, became a talented designer in his own right and on William Morris' death in 1896 he took over Morris & Co. So close was he to Morris in style that many of his designs for wallpapers and fabrics have been mistaken for Morris' own.
However, it was in tapestry that he revealed his greatest talent and here his work is quite distinctive. Greenery is one of his finest works.

The original Greenery tapestry, completed in 1892, is now on loan to the National Trust of Scotland and is hung at Crathes Castle, Banchory. A second weaving was completed in 1915 and is in the Metropolitan Museum, New York.

Beth Russell has adapted the very large weaving into needlepoint and divided it into 3 parts, which she has named Hares, Fox & Pheasant and Deer for convenience. Each of these would make a handsome firescreen or wall hanging. Sewn together the entire scene is magnificent.

Click image for larger version

Stitch: Tent. 40 colours

This beautiful needlepoint kit contains 14 mesh Zweigart Antique Deluxe Canvas 26" x 30" with hand printed, full colour 21" x 26" design, Appleton Crewel Wools (40 Colours), Shade Card, Needle, Instructions and Calico Carrying Bag.
Beth Russell Greenery Fox and Pheasant
Price of Embroidery Needlepoint Kits includes VAT at 15%
VAT is deductible for Overseas orders and the approximate US$ price is $265.53 (for deliveries outside the EU)
See what is in the kits Here...