Beth Russell Strawberry Thief Cushion / Chair Seat Needlepoint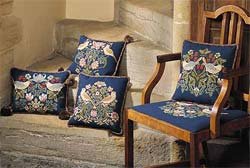 The inspiration for William Morris' best loved Strawberry Thief design came while he watched thrushes stealing the strawberries from his garden at Kelmscott Manor. Despite his frustrations at losing his fruit, rumor has it that Morris ordered that the birds be left to eat in peace.

Morris spent years researching the lost art of natural dyeing and Strawberry Thief is the result of the indigo discharge method. Some of the original fabric still hangs in Kelmscott Manor and the design is produced today by Liberty of London.

Click image for larger version

Stitch: Tent/Basketweave

Design Size 11" x 14"/16" (28 x 35.5cm/40.5cm)
Canvas Size 22" x 26" (56 x 66cm)

Kit contains instructions, needle, Hand-Printed 14 Mesh Zweigart Antique Mono De Luxe Canvas Appleton crewel wools.
Beth Russell Strawberry Thief Cushion / Chair Seat
Price of Embroidery Needlepoint Kits includes VAT at 15%
VAT is deductible for Overseas orders and the approximate US$ price is $111.19 (for deliveries outside the EU)
See what is in the kits Here...