Beth Russell Animal Alphabet Complete Needlepoint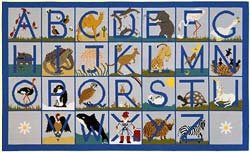 Each 6"x 6" letter is printed in colour on 10# inch blue canvas so that stitching the background is not necessary and the illustrated instructions by Beth Russell are very easy to follow.

The kits come packed in attractive little calico bags making them ideal gifts.

They can be framed, made into cushions, cubes or samplers or simply joined together to spell names or sayings.

Buy the individual letters Here...
Beth Russell Animal Alphabet Complete
Price of Embroidery Needlepoint Kits includes VAT at 15%
VAT is deductible for Overseas orders and the approximate US$ price is $323.62 (for deliveries outside the EU)
See what is in the kits Here...