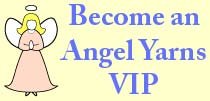 What's New February
Archive
Earlier 'What's New' page here...
August September October November December January
Sale:
Discount Yarn Sale - We've Moved Again!
Jaeger Celeste - 40% OFF
Jaeger Mohair Art - 40% OFF
Debbie Bliss:
Pure Silk - It's here! Absolutely delicious new yarn from Debbie Bliss.
Cashmerino DK - New DK version of this now classic yarn
Baby Cashmerino 2 - The 2nd book to accompany Debbie's ever popular baby cashmerino
Adriafil:
Matisse - Pretty blend twisted with multi-strands of colour producing a springy soft fabric
Van Gogh - Stunning cotton mix yarn which knits up beautifully
Warhol - Unusual tape yarn with cotton threads and tiny coloured pompoms!
Rowan:
All Seasons Cotton (Plain) - 10% Discount in conjunction with Simply Knitting Magazine
All Seasons Cotton (Printed) - 10% Discount in conjunction with Simply Knitting Magazine
Glimmer Print - An exciting new yarn from Rowan
Holiday - One of the softest yet
Rowan 39 - The latest edition of Rowan Magazine
A Midas Touch - 13 designs for Rowan Glimmer Print
Tuscan Retreat - 12 designs for Rowan Holiday
Jordana Paige:
Knitter's Satchel - Funky retro knitting bag, new in from Jordana
New Messenger Bag - Fab Pink & Black dogtooth version of the 'go anywhere' knitters' bag
Artesano
Opulencia - Hand dyed variegated version of the ever popular Artesano Alpaca
Opal:
Acapulco - The latest colours in a new range of sock yarns from Opal
Jewellery:
Pony:
Rosewood Knitting Needles - Oh so smooth and lovely!
Pearl - The fun starts here! Each size has its own colour

Daylight:
Lights, Lamps and Magnifyers - Simply the best there are
Sirdar:
Vegas - Really fun fashion yarn from Sirdar
Medici - A soft, cotton based yarn with a subtle glittery thread