Our Range of Angel Yarns Jewellery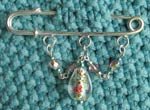 We have recently found some lovely jewellery and accessories so we have added them as part of our ever expanding range.
Click on any of the pictures for a larger view
Hand Made Kilt Pins/Brooches...
---
Diamonte Brooches
As our brooches have done so very well we have found a new range to offer.
The heart shapes measures 45mm wide and 55mm high while the others are 55mm across.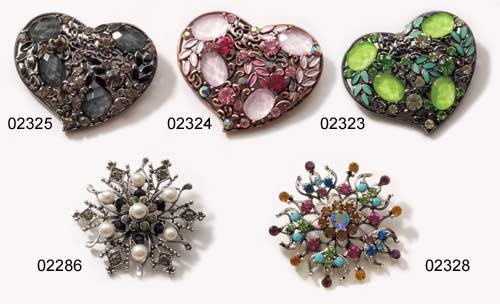 ---
Tourmaline Earrings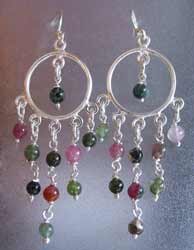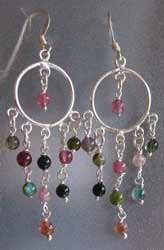 We thought these were so pretty that we had to have them! Tourmalines are precious stones displaying a unique splendour of colours. According to an ancient Egyptian legend this is the result of the fact that on the long way from the Earth's heart up towards the sun, Tourmaline travelled along a rainbow collecting all the colours on the way. This is why nowadays it is called the "Rainbow gemstone".
No Tourmaline exactly resembles another one: this gemstone shows many faces and is thus excellently suited to match all moods and tempers. It does not come as a surprise, then, that ever since ancient days it has been attributed with magical powers. Tourmaline is supposed to be an especially powerful influence on love and friendship, lending them permanence and stability.
Sterling Silver hoops
---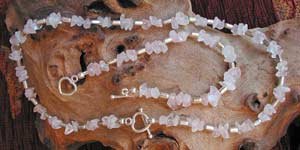 Rose Quartz & Sterling Silver Set
This very pretty set comprises a necklace and bracelet in sterling silver and rose quartz.
---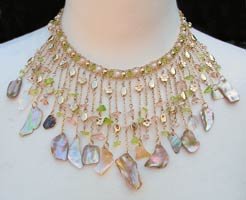 "Australian Blue" Shell and Trachus Shell Necklace - 1 Only
Gorgeous Australian Blue shell and Trachus shell suspended from a necklace adorned with gold, green and pearl beads.
The picture doesn't give justice to how bright and ethereal this necklace is.
Sold
---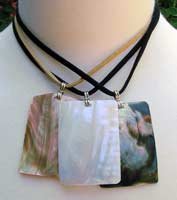 Polished Shell on a Leather Necklace
Really lovely polished shells (2" x 1.5" approx) suspended from a leather necklace.
Metal fastener, assorted colours.
---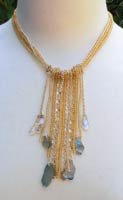 Beaded Shell Necklace - 1 Only
Really pretty necklace with polished mother of pearl shells suspended from a whole host of chains and beaded strands.
Sold
---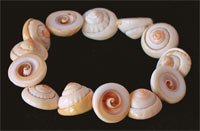 Shell Bracelet
A great summer accessory for those who dream of walking shoeless across sun kissed beaches with gentle waves lapping at the shore.... or just shopping in Sainsburys.
---
Pearl Bracelet
This 5 in 1 Pearl Ribbon Bracelet is made of multiple strands of Pearls in various sizes for a stylish effect. Finished off with a pretty ribbon for that final touch it looks beautiful with anything. Dress up a casual outfit or add to an already stunning couture styled look!
A must have!
Available in 5 different colour choices
---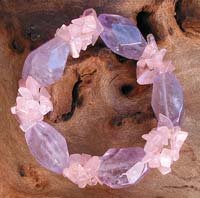 Amethyst and Rose Quartz Bracelet
Great for daytime or evening wear. Rose quartz has been used as a gemstone and other ornamental and religious objects for thousands of years and historically, it is a symbol of love and beauty. It is said to help treat depression and to assist in weight loss but we're not sure how many you need to eat!
One size.
---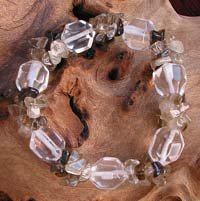 Rock Crystal and Smoky Quartz Bracelet
Another bracelet that's perfect for daytime or evening wear. Rock crystal is said to help remove toxins from the body and to help treat disorders of the digestive system, kidneys and bladder.
Among other properties Smoky Quartz is said to alleviate stress.
One size.
---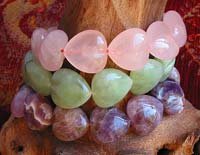 Rose Quartz, Jade or Amethyst Heart Bracelets
Jade has been treasured in China as the royal gemstone, yu, and for thousands of years Jade was a symbol of love and virtue as well as a status symbol.
Purple has long been considered a royal colour so it is not surprising that Amethyst has been so much in demand during history. Fine Amethysts are featured in the British Crown Jewels and were also a favourite of Catherine the Great and Egyptian royalty.
Rose quartz has been used as a gemstone and other ornamental and religious objects for thousands of years and it is a symbol of love and beauty.
One size.
---

Amber Bracelets
These Hallmarked Sterling Silver bracelets are set with either White Amber, Green Amber and Golden Amber or Green Amber and Golden Amber.
Very pretty and very rare, as we have only have 1 of each available!
---