Exquisite Embroidery Kits from Glorafilia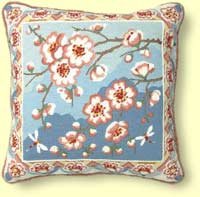 We are delighted to now offer a range of embroidery kits from Glorafilia, a fabulous collection of needlepoint kits for the discerning needleworker. Each Glorafilia kit is printed in full colour onto canvas and contains pure wool, a needle and clear stitching instructions.
These are quality tapestry needlepoint items created and manufactured in the design studios and mill of William Briggs. Glorafilia kits use Anchor tapisserie wool, with the canvases varying from 7 to 14 count, single strand to interlock. Sufficient yarn is included to stitch in either tent stitch or half cross stitch.
Please Contact Us if you are looking for a particular kit that we haven't listed.
Our Current Range of Kits