RYC Classic Yarns Collection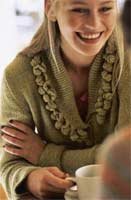 The RYC Classic Collection is a range of handknits that are designed to be a joy to knit and a pleasure to wear, for the woman wanting to boost her wardrobe with those key handknits that compliment every outfit.
All New
The Classic Yarns Collection, consisting of some 13 yarns and 16 pattern books, has been designed with all you style conscious knitters in mind - and your babies too!
So whatever you're looking, be it a simple sweater or something more complicated, you can be sure to find something that's just right for everyday or for that special occasion.
Already one of our customers favourites three more yarns have been added for the Autumn Winter 2006 season.
RYC Yarn Range