Angel 100% Pure Silks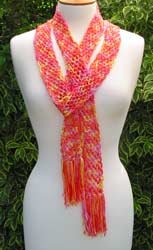 We have now (at long last!) launched the Angel Yarns range of hand painted silk yarns.
We've taken so long because we had issues with giving it up as we were having such great fun experimenting with colours!
Whether it's the pure 'vanilla' silks or the hand painted these are exquisite yarns you will enjoy as much as we have.
We recommend that with the hand painted silks you blend two hanks at once, i.e. work two rows from ball one and two rows from ball two, as we believe this produces the best results.
Each hand painted hank is worked upon individually so there may be slight variations in each silk skein you receive and, from our experience, it is these nuances that will greatly enhance your finished project.
Please note that these yarns are hand dyed and can be different to the images shown.
Gauge: 5 stitches = 1"
Recommended Needle Size: #7
Approx. yardage = 260 yds
Approx. Weight = 100 grams
80-100g skeins

Colourway 132
New!

Colourway 119

Colourway 120

Colourway 121

Colourway 122

Colourway 133

Colourway 124

Colourway 125

Colourway 126

Colourway 127

Colourway 130

Colourway 131

Pure Silk