How to Use Our Online Store
The Navigation bar on the left shows our main sections and you should be able to find everything you're looking for from there - if not try our Site Map it lists all the Rowan yarns & Jaeger yarns etc.
For other questions please take a look at our FAQ page.
If you need help ordering items please see 'Ordering' below
For details on how to use the Shopping Cart, Click Here
If you need help with Checking Shipping Charges, Click Here
For details of VAT Exemption, Click Here and the Checkout, Click Here
Lastly, for information regarding Confirming your Order and Making Payments, Click Here
Ordering
Where you are able to order something from us the pages will have something like this below:

The image will show an example of the colour or item followed by its code and name or colour. Then follows the price in GB£ (including VAT) and a text box. If you are looking to buy more than one of an item you can enter the total here - don't worry if you only add 1, you can add more when you checkout.
The button that follows may be either "Buy Now" or "Add to Cart", either way clicking this will add the item/s to your shopping cart/basket - doing this does not mean you have to buy it, just that it is now in your cart. When you click the button the page will refresh and there should now be bold text near the top of the item list like this:
1 item added to your Shopping Basket - Checkout
You can either click the "Checkout" link or continue shopping - every page (even this one!) has a link to the shopping cart at the top right of the page.
For each product we have also added a button or text link to www.xe.com and you can use this to check the price in your own currency, the link pops up another window and is very easy to use. Please note that if you have popup blocking turned on this may not work for you.
For most item we have given a US$ price guide for items that are to be delivered outside of the European Union. This is a guide only and does not include any shipping.
Shopping Cart
At the Shopping Cart you can either add or reduce quantities using the text boxes for each item's line and clicking 'Update' - this must be done for each individual line that you have changed the quantity for.
If you want to remove the item from the cart completely you may either change the quantity to '0' and click 'Update' or click the 'Delete' button. Delete removes the line entirely. An example of the cart can be found below:

Shipping
Once you are happy with your order you can then go ahead and work out the shipping.
Please Note:This does not obligate you to continue and buy the products.
Choose the shipping destination from the drop down box (if we don't have your location just send us an email and we'll add it), and click 'Submit'.


This will display your shipping charges with the option to 'Show Countries' again should you have chosen the wrong one. You can now also check the amount in you own currency using the 'Currency Converter' link.
Orders over £80 including VAT are delivered free for deliveries in the U.
You can now click the 'Checkout' button.
Checkout
If you have ordered from us before (and entered a password) you can now retrieve your delivery details by entering your email and password in the boxes shown below: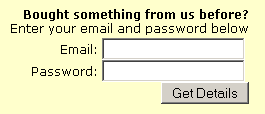 This will then complete your name, address, delivery address etc and you can move on to the confirmation page.
If you have not ordered from us before you will need to complete the form - adding a password if you would like to be remembered the next time.
Please Note: You do not need to add a Delivery Address if it is the same as your main address.
If you have chosen a delivery destination outside of the European Union you will be shown a checkbox for the British VAT to be removed.

If you are exempt from VAT please tick the box and then click the 'Confirm' button.
Confirmation of Your Order
To ensure everything is correct for your order we then show all the details you have entered before moving on the the WorldPay payment processing system, an example is shown below: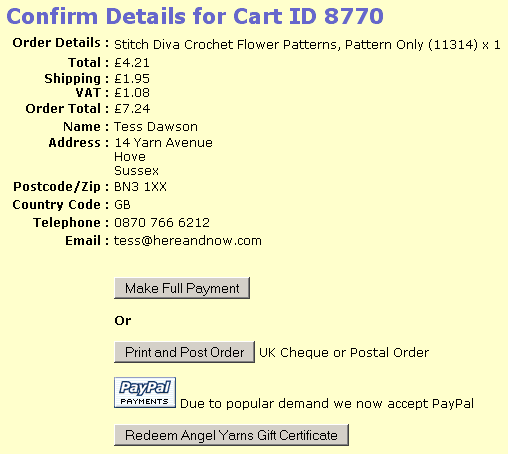 The 4 choices for payment are:
Redeem a Yarn Shop Gift Certificate
Make a Full Payment online via our secure payment processor, WorldPay
Make a Full Payment online via PayPal
Print out and Post the order to us with a cheque payment made out to 'Fin Wear'
(Please note: We can only accept cheque and postal order payments and these must be in GB£ Sterling)
WorldPay accept the following credit and charge cards:

If you choose to pay securely online you will receive an email confirmation from WorldPay and an email confirmation from us at the Yarn Shop - if you receive neither you may have entered your email address incorrectly and should contact us to check everything is OK.
We hope that you have found this Guide to be helpful and if you would like to comment or make a request for more information please do contact us.