Soft & Luxurious Cashmerino Yarns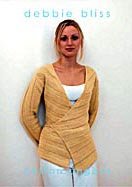 We are delighted that we stock the wonderful, and fabulously soft, Debbie Bliss yarn range.
The Collection uses the highest quality fibres in different weights to produce a luxury hand knit for you to cherish for yourself or a loved one.
The Cashmerino range is not only some of the softest wool we have come across but they're machine washable and can be tumble dried too! What more could you ask for of a luxury wool?
Soft and not at all scratchy, these wools are great for children and adults alike for everyday and evening wear. We are sure you will be as delighted with the results as we have been with ours. Take a look at the new Pure Silk too, Debbie's real gem!
Debbie Bliss yarns for your hand knitting