Sock Wool from Regia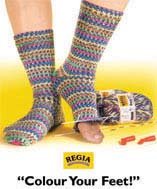 We are pleased to announce that we now stock Regia Yarn for all you sock knitters that have asked for it.
This self patterning yarn comes in 4 ply and 6 ply and is great for colourful, quick and fun projects and is just as exciting as our Opal Yarn and Town and Country ranges and the fabulous Lucy Neatby Hand Painted Sock Yarns - other sock knitters favourites.
This fantastic wool has hit the sock-knitting world by storm. The lovely variegated wool knits up into stripes, fair isle patterns, lines or zigzags as if by magic, without changing balls while knitting. It's impossible to show the rich colours and textures of these fine wools on a web page - the images don't come close to displaying the beauty and intensity of each colour.
See All the Regia Colours Here...
Regia Sock Kits
Regia Colours by Type