Real Beauties!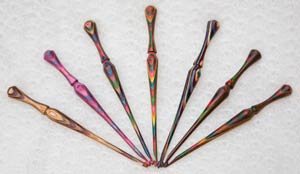 We are very pleased to now have the range of beautiful hand turned needles and hooks from Grafton Fibers available at Angel Yarns.
These heirloom quality products have been made using traditional tools and techniques and are some of the most stunning crochet hooks and double pointed knitting needles available today - and we know you'll agree.
Collectors Items
We are sure that these needles and hooks will become favourites with our knitters and crocheters and fairly sure that only a small fraction will be used as they are intended! In fact Tess has a vase full of them on our mantelpiece and insists that they will, one day, get used but in the meantime they're lovely to admire.
Currently available are:
Grafton Double Pointed Knitting Needles