Exquisite Needlepoint Kits by Beth Russell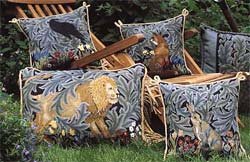 We are delighted to now offer a range of kits by Beth Russell. Some of these kits are just so lovely that we're going to have trouble letting them go!
Beth Russell trained at the Royal School of Needlework and it was here that she first became influenced by the 19th century designs of William Morris and William De Morgan, two leaders of the Arts & Crafts movement.
Beth's needlepoint company, Designers Forum, has an international reputation and is now the world's leading producer of needlepoint kits using only the finest materials so that you can cross stitch an embroidery heirloom to treasure forever.
These classic and timeless designs will add richness and warmth to any home, traditional or modern and will undoubtedly be admired for many years to come.
See what is inside the kits Here...
Our Current Range of Kits
Click Images for Details