Texture Heaven!
Trendsetter Yarns pride themselves on offering one of the most inventive and diverse palette selections of any yarn company. In addition the colour palettes are offered throughout the yarn categories enabling customers to follow a colour theme, but also introduce new textures to a garment.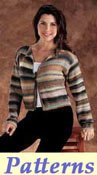 The Trendsetter design team works on pattern support for the yarns and Barry Klein (Trendsetter's founder) along with Fayla Reiss and Jane Slicer Smith have put together highly imaginative designs to suit all skills and styles.
These yarns really encourage experienced and beginner knitters to have fun with texture and colour.
Trendsetter Yarns has earned a justified reputation as a world leader in the fashion yarns industry. Barry's sound knowledge and insight ensure that Trendsetter continues to "set the trends" year on year.
Trendsetter Yarns

Patterns