All Your Own Work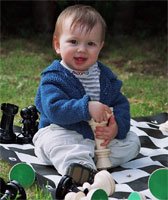 From time to time we get sent pictures of the projects our wool is bought for (sometimes we ask for them too!), so we are going to post them up here for all to see. If you would like to add yours here just let us know.
All of the pictures can be clicked to see larger versions
---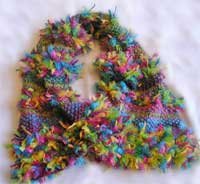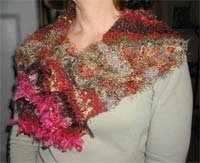 Jane Dunn Ostler
Noro Silk Garden, Sirdar Fizz, Jaeger Fur and Patons Splash
Jane emailed us these pictures and we were in awe! Fantastic scarves that we all covet!
Jane had this to say about them:
At last I have taken some, not very good, photos of some of the scarves my mum and I have been knitting with your fabulous wool. (I'm afraid quite a few have already got away before I could photograph them because mum is so impatient to post them off to the lucky recipients.)
They are short light scarves to be worn indoors as much as out, more as accessories to brighten up a boring t-shirt or pullover.
The pink one was knitted by my mother, Ellinor Thesen, mixing Noro Silk Garden with Sirdar Fizz Matador. She's a painter and can't resist adding bits and pieces of colour so she's also knitted beads in, as I think you can just about see. (You thread the yarn with the beads before you start and then feed them through when you need to)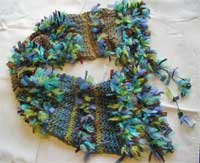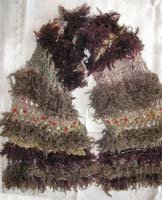 The multicoloured one I call 'Garden' I knitted with Noro Silk Garden 87 and Sirdar Fizz Fiesta. I also added the occasional two rows of chenille to give a breathing space, so to speak. Inspired by my mum I added small beads to some of these chenille stripes. The Noro was in moss stitch, the Fizz in garter and the chenille in stocking.
The one called 'Fur' is another by my mum. One of the first she knitted and she knitted it for me. It looks fantastic on, I pin it with a light long pin. This she knitted in Noro Silk Garden and Jaeger Fur. The red flashes, which really make it, were one row of Patons Splash in Camouflage which she had hanging around.
The Aqua one is another one by me. Again made in Noro Silk Garden, this time 204, together with Sirdar Fizz in Aquamarine. Again I put in the occasional stripe of spring green chenille and added beads to the stripes at either end. I also made a beaded tassel to use as a way of keeping the scarf loosely closed when I am wearing it. For example, I throw the beaded tassel over the fold and the slight weight of the beads keep it in place.
It has been such fun using these gorgeous wools on quick easy and terrifically effective accessories like these. Whenever my mother and sisters (she has 6 daughters and 2 daughters-in-law and has knitted a scarf for all) wear them out we are stopped in the street by strangers who ask where we got them! Some even press their phone numbers on us asking us to ask her to knit them one. But they are so easy, anyone could do it!
---
Maisie
Elle Plume Scarf
Maisie (or Mum as we know her!) is modelling an Elle Plume scarf that is ever so pretty.
If you call us you may get to speak to Maisie so let her know you've seen her picture!
This scarf was knitted with 2 balls of Plume in Raspberry Fizz on 7mm needles casting on 25 stitches.
---
Liz sent us a picture of her Kureyon Sweater (lovely choice of colour Liz) and had this to say about it and the pattern:
Here is a photo of my 'blood, sweat and tears' entrelac sweater in Noro Kureyon 52. As I said earlier, I had some problems with the pattern (from Noro Collection 2). The official pattern produces a sweater that is way too short (yes, my tension was correct). I had to add 8 extra rows of squares to give it a decent length as you see it now. I also don't like the unflattering kink in the sleeve where the increasing stops - I may do some local ripping and reknitting! But apart from that, I really enjoyed learning the new technique of entrelac - once I'd got the hang of it and didn't need to keep one finger in the instructions, it has a soothing rythym.
---
These fabulous pictures were sent by Penelope and she had this to say about them:
Here are two pictures of the Kureyon 89 scarf. The blocking doesn't seem to work very well on this ribbing so the scarf is looking a little rumpled, but the pattern is incredibly quick (and easy) to make.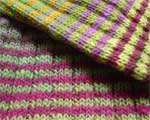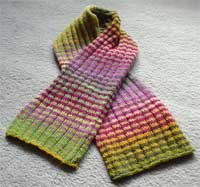 Two more pictures of Noro Kureyon 95 (I think it's 95!), where the stripes contrast more effectively when the balls are rewound into smaller sets of balls.
---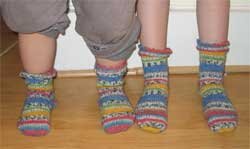 Karen Feldwick
Opal Sock Yarn
Here are two pairs of socks Karen knitted for Jane's grandchildren for Christmas - very cute!
---
Hilary Lloyd
Rowan Wool Cotton
Rowan Lurex
Hilary enquired about a number of wools for her Afghan rug and after a bit of email tennis we found the perfect colours for her. This is Hilary's Afghan rug and she had this to say:
Not all the wool requirements were in in list at the front of the pattern, so I would check more carefully what I need next time! I had a problem with getting the squares to be 6 inches following the pattern as set so I used 3mm rather than a 3.75mm needles as I wanted to make sure I had enough wool. The tension is tighter than it should be but it still look good. The pattern is really easy to follow and the instructions for adding beads etc are clear. The wool knits up well - nice and even tension, although it can split a little bit. I find the lurex hard to use though, especially as you have to use it double. I sew the squares together every time I have enough squares to do a side of the square, I started at the middle. I also make sure I sew the ends in on each block as I go - otherwise it would never be finished! I block each square with pins on a checked tablecloth over a bed mattress, I tried ironing the squares but the result wasn't as good.
I hadn't knitted for over 15 years but have found this easy. And although the finished afghan is going to be big I can do a square and evening and so it seems to grow quickly! Much easier than a big sweater with lots of stitches on each row. It is easy to do anywhere (esp now I have short needles!).
Hilary used the pattern from Debbie Abrahams' 'Blankets and Throws to Knit'
---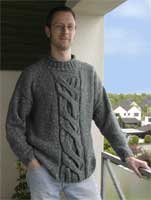 Susanne Vetterkind
Rowan Sweater
Susanne told us that she would send us a picture of her Rowan sweater if she could get her significant other to pose with it - well she managed to get him to pose so here it is!
Well done Susanne!
---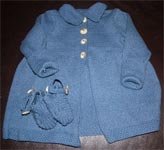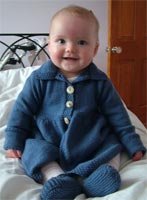 Liz McFarlane
Here are some pictures of the Little Badger pattern which Liz knitted up for her beautiful baby girl, Amelia. It's a little set with bootees and don't they look cute!
Liz is going to let us know soon how the pattern worked out and what yarn she used and we look forward to hearing more about it.
---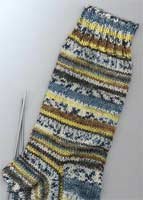 Gill Thomas
Opal Lollipop 1013
Gill bought some Opal sock yarn from us and this was our first taste of what was to come:
Just showing off progress on my first sock.... (shown best side, of course). Spent six or seven hours on a coach during the last two days so had time to knit. Will confess to having a less-than-perfect picking up of the stitches on the other side (but nothing that a needle and thread won't disguise later in the process!)
My knitting mentors are right - knitting socks isn't difficult. But whether I can make a second one to match...well, watch this space. Tess, thanks for the easy to follow instructions which even I can manage!
This Opal yarn is amazing stuff....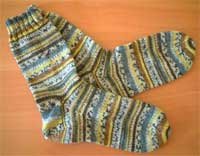 Gill has now finished the socks and had this to say:
I attach a picture of my FINISHED! socks. I'm really thrilled with them - especially because, as a nit-picky kind of person, I spent a while lining up the colours! I took great pleasure in knitting up the second sock and finding the patterns matched exactly.
Many thanks for your help and guidance....they were quite manageable, even for a beginner like me!
They're lovely Gill, keep up the good work.
See full range of Opal Sock Yarn here.
---
Kate placed an order with us and we were delighted when we saw the end result, a fantastic surprise and it just goes to show what a great imagination can produce. Kate tells us:
Here is the vest I made. It turned out pretty good for guesswork.
I started at the bottom and knitted up to the armholes all in one piece to make it match up that far! Then cast off for the armholes and attached yarn to the two back pieces and two middle pieces to finish. I had to cut out some plain yarn bits to try to get the pattern to match, but in the back I had a darker bit of pattern stitch on the one side. Oh well, I'll have to try another! I think from the pics of socks I've seen the lollipop would knit up with thinner plain strips. The color I got in that is for the girl dolls, if I like it better, I'll order some in "macho" colors!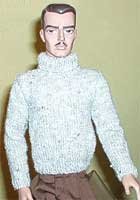 I'm pleased for a first try and I have plenty of yarn left for other things! He may get a shawl collared cardi!
Kate followed up with this lovely Rowan sweater, telling us:
Finally got him to model! This is what I did with almost all of the squirrel! (just his tail left. hahahaha) It just feels so nice to work with!
Keep them coming Kate
---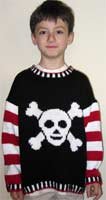 Julie Kent
Rowan Hand knit cotton
Julie sent us in an adorable picture of her little boy Tim pictured in his new sweater. Julie tells us...
This is the sweater I made with the Rowan Hand knit cotton I ordered from you. The skull and crossbones comes from Zoe Mellor's "Adorable Knits for Tots." The rest of the sweater I got from Kate Buller's "Style Your Own Knits." So far, everyone loves it - especially Tim, age 8.
We've at least one jealous little boy here!