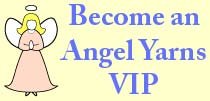 What's New March
Archive
Earlier 'What's New' page here...
August September October November December January February
Sale:
Discount Yarn Sale - We've Moved Again!
Jaeger Celeste - 40% OFF
Jaeger Mohair Art - 40% OFF
Stitch Diva:
New Accessories Patterns - New Bags and Hats
New Skirt Pattern - A hairpin lace exotic yet modern peasant skirt
Opal:
Petticoat Cotton - Delightful new range from the ever popular Opal
Saphir - New 'sweater' yarn from Opal
Sirdar:
Luxury Soft Cotton DK - One of the softest yarns around
Loopa - A craft sensation! Creativity with no knitting skill required
Vegas - Really fun fashion yarn from Sirdar
Medici - A soft, cotton based yarn with a subtle glittery thread
Bergere de France:
Patterns - Lots more added
Jaeger:
New Pattern Books - exactly that!