Stitch Diva Crochet and Knitting Patterns
A fantastic range of exciting patterns from the ever popular Stitch Diva Studios.
Learn to crochet with instructions here
Click photos to see larger images.
---
Blue-Blooded Boob Tube -
New!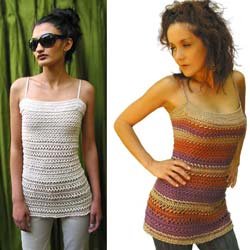 Sexy Crochet Pattern from Stitch Diva
Perfect for any time of year.
Stitch Diva Studio's form-fitting, sleeveless top design is worked in crochet hairpin lace.
Worked in one color or in multi-colour stripes, this versatile top is not only perfect for a summer's day, it can be dressed up for evening, or make the perfect layering piece for any time of year.
Pair it with Stitch Diva Studio's Bustle Skirt (pattern available separately below) for the ultimate party outfit.
---
Belts And Headscarves -
New!
Quick Crochet.... but not plain and unsophisticated!
Have some extra yarn or thread laying around and you need to make a fast gift or accessory? We present a collection of always-useful, always-stylish accessories that are not only quick to make, but cleverly - simple to work:
Pinwheel Headscarf (pictured top): Use a fingering weight yarn or size 10 crochet thread and some beads to create this intenselydetailed, Irish Crochet-inspired headwrap.
Pinwheel Belt (pictured 2nd down): An intricate belt crocheted using the same conceptsas our Pinwheel headscarf, this belt is stitched at a different gauge and incorporates cording as a tie.
Woven Headband (pictured 3rd down): The headband has made a fashion comeback in a big way. It is easy to make a statement with just a little bit of yarn or size 10 crochet thread and beads.
Wrap Belt (pictured bottom): Easy-to-make, this fashion essential is a must-have for figure flattery. Pair it with skirts, pants or dresses.
---
Bellocq Stocking Collection -
New!
Knit Socks and Stockings Pattern
This collection features lacy socks and stockings all made from the same basic pattern. Because they're worked from the toe up, you just stop knitting when your stockings reach the perfect length: crew, knee-high or thigh-high.
What makes these socks beautifully unique are the details. You have a choice of working a sexy Cuban heel or continuing the main lace pattern at the ankle. Crowning the socks is an ingenious leafy lace border, with eyelets for ribbon embellishment.
These fully illustrated instructions will guide you toward knitting a perfect pair of ultra-feminine socks: be it sensible crews for every day, dress-up knee-highs for a super-style look or decadent thigh highs for that special occasion.
---
Sahara -
New!
Crochet Pattern

Think pinpoint fit, arabesque details and easy knitting. Sahara is just as elegant to make as it is to wear: worked from the top down in one piece so that you can try it on as you go: it requires no seaming to create the fitted set-in sleeves, precision-tailored waist line or the gently curved, bottom-and-tummy-conforming hem. Style and fit tips appear throughout the pattern, guiding you to a custom fit. And then there's 3 different sleeve options on offer – from sleeveless to short-sleeve to dramatic long-sleeves so that you can create the perfect garment for your lifestyle, climate and mood.
To complement an impeccable fit, we feature a diamond texture border for the embellished neckline, cuffs and hem. Work up Sahara in any drapey worsted weight yarn, or use our rich featured silks with beaded and sequined accent yarns to create a sleek tunic with sumptuously-encrusted details.
---
Butterfly Wrap -
New!
Crochet Pattern
With its dramatic kimono sleeves and gossamer crochet lace, this robe will flow around your body like the wings of a butterfly. The design features top-down construction so you can try it on as you go to produce a custom fit. Work it to cardigan length or to robe length to get the look you desire.
Included in this pattern are clear instructions, stitch diagrams and an illustrated tutorial for creating the simply stunning waist ties with thin ribbon or cord.
---
Goddess -
New!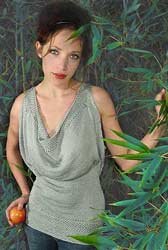 Goddess is a universally flattering knit that hugs your body in all the right places while loosely draping over the bust to accentuate (or create the illusion of!) an hourglass figure.
Knit from the top down in stockinette stitch, Goddess is a try-on-as-you-go design that provides opportunities to learn a few new tricks, yet still affords lots of easygoing "TV knitting". Incorporating unique increases, tubular cast on and bindoff, small Kitchener stitch seams, and a simple pattern stitch border, our pattern instructions will introduce you to the tricks of a knitting Goddess as you create your garment, then transform you into a style Goddess once you put it on.
---
Lotus Smock Dress & Camisole -
New!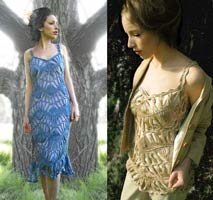 The Lotus Smock is a super fast and easy project using crochet hairpin lace. If the beauty of Lotus doesn't entice you to try hairpin lace, perhaps the speed of this project will.
This try-on-as-you-go project can be completed in a weekend for the camisole-length or in a week for the knee-grazing dress. Lotus is created by joining hairpin lace strips of different lengths into a classic feather and fan pattern. The strips vary in length to hug the curves of the female form; each join is subtly different although the overall pattern of the dress remains the same.
Key to this design is the forgiving fit: not only is hairpin fabric stretchy, but also the texture of the join pattern helps Lotus obscure any bulges that you might like kept under wraps.
---
Trapeze Jacket -
New!
A versatile "IT" jacket for a modern wardrobe, Stitch Diva's Trapeze Jacket puts a fresh, knitted twist on classic "Jackie-O" styling.
Sweet yet sexy, it is the perfect attire for stylish layering in any season. Pick your sleeve length - short princess sleeve or tapered mid-length - then knit this no-hassle jacket from the top down using a try-on-as-you-go technique.
This jacket requires minimal seaming - sleeves, collar and plackets are picked up and knit instead of being seamed on later. Finish off by finding a unique brooch to accent the neck closure and you will make this sophisticated little jacket your own.
---
Stash Buster Blanket -
New!
Tunisian Crochet
Bust through your stash in record time - creating a beautiful, EASY blanket of interwoven color and texture to show for it!
If you have beginning crochet skills, this pattern will teach you the basics of Tunisian Crochet and the 3 Color Tunisian technique.
You'll learn how to "paint" with your stash, weaving colour and texture in ways that standard crochet or knitting just don't easily allow.
Use up those novelty yarns and odd skeins or go ahead and purchase a selected palette of yarns for a special heirloom project that is easy, fast and really, really fun.
This pattern is more than a typical pattern which calls out yarn specifics and rowcounts. Instead, Stitch Diva features a comprehensive recipe that will teach you to combine yarns of any gauge into a blanket using any hook size. The fully illustrated instructions take you step-by-step through the required techniques, so that you can easily combine YOUR personal yarns into a beautiful family keepsake in no time at all.
---
Bustle Skirt -
New!
Another Sexy Crochet Pattern from Stitch Diva
This fabulous and supremely feminine skirt is created using hairpin lace and a unique ruffle join technique.
Form-fitting, with a cascading bustle filling the back slit, the skirt is worked from the top-down with just eight hairpin lace strips.
Wear it alone or pair it with Stitch Diva's Blue-Blooded Boob tube (pattern available separately) for a very sophisticated soiree ensemble.
---
Knit Bag, Headbands, and Belt Pattern
Single Skein Stuff -
New!
Crochet Patterns from Stitch Diva
This stylish collection of less-than-one-skein projects is full of "cheats" and "tricks" that make a little bit of yarn, skill (and time!) go a long way. Perfect for last minute gifts, Stitch Diva presents 4 wonderful ways to use your single skeins and leftover yarn in impressive little ways.
Items in the collection include:
Wavy Headband (Pictured top): A clever use of just a little bit of yarn makes a perfect fit for any sized head: just stop when you get the right fit! No seaming is required, beads are optional, or use a fancy yarn for some really low-effort impact!
Evening Bag (Pictured middle): Aptly named, this very clever little bag can be knit in just one evening. Using short rows and a stitch that really highlights beautiful yarn, it is a snap to create, requiring minimal yarn and absolutely no seaming.
Grecian Headband (Pictured lower left): This is a very fast little knitting project and perhaps even a "cheat". But you will look very patrician in this classic, adjustable head ornament made of twisted cord and a little knitting.
Waist Cincher (Pictured lower right): This wrap-around, obi-style belt is slimming and very, very stylish. Worked from short end to short end, just stop knitting once you reach the perfect fit.
---
Hairpin Lace Skirt Pattern -
New!
Crochet Pattern from Stitch Diva
It will echo your movements.... The amazing drape mixed with the super-fast technique of hairpin lace creates this exotic yet modern peasant skirt.
The adjustable fit will result ina a sure fit for any body type and the skirt offers a layering of see-through fabric for a rich multi-dimensional effect. Because it is made using hairpin lace crochet, this skirt works up ultra fast.
If you have never used this technique before, you will be amazed at how fast you will be able to complete this skirt.
---
Baroque Ladies Jacket
Crochet pattern from Stitch Diva
This lacy crochet jacket exemplifies the feminine, romantic look so popular on the runways now. The jacket is designed to be form-fitting, worn over a simple dress, tank top or halter. A key to the design is an ornate fan-pattern stitch motif, which provides flaring at the sleeves and at the waist without the need to increase or decrease. The crochet jacket design also features accentuation of the waist with 2 luxurious silk ribbons, and the change in stitch direction at the lower rear lends a subtle bustle-like effect.
---
Celebrity Look-Alike Shawl Pattern -
New!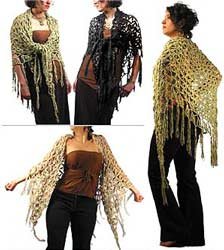 Revised 2nd Edition
Crochet pattern
This exquisitely beautiful crochet shawl pattern can be crocheted with under 800 yards of yarn over a weekend. Inspired by the shawl worn by Jessica Simpson on the MTV show, "The Newlyweds", this shawl is an essential accessory for any season and a great way to achieve the modern, romantic look.
Stitch Diva's newly revised and expanded directions feature a bottom-up construction so you can just stop crocheting when the shawl reaches your desired length. In addition, we show an optional border and enhanced shaping for a shorter, wider shawl. Lastly, they feature the shawl in three different yarns to help you select the right fiber to truly make this shawl your own.
---
Felted Crochet Flower Clog Slippers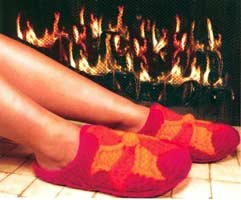 Crochet and Knit Pattern from Stitch Diva
Flower clogs present a fast and fun way to create the universal must-have on any girl's downtime list: a cozy pair of slippers.
Crochet is perfect for felted clogs- it felts up thick and the sculptural floral motif of the slippers can be worked-as-you-go.
Adapt this versatile and fun design to use with any worsted felting yarn or colour combination (click image for examples) We provide photo tutorials and detailed information to help you get a quick and comfy result. Once you make a pair for yourself, be a friend and crochet some for the other special girlies on your gift list.
---
Simple Knitted Bodice
Crochet and Knit Pattern from Stitch Diva
Make yourself a short-sleeved or long-sleeve garment that looks extravagant and fits your curves perfectly! This sumptuous design requires minimal finishing and features simple shading techniques.
---
Hairpin Lace Hats -
New!
Crochet, Knit and Hairpin Lace Hat Patterns
This set of hairpin lace hat patterns presents an easy way to explore the versatility of the hairpin lace technique. Create three distinctly-different hats, exploring different hairpin lace joining methods.
Each time you will be rewarded with a hat of delicate and timeless styling.
Don't be fooled: the filligree texture of the hairpin lace stitches makes these hats appear deceptively intricate. Don't worry: no one will make you confess that they are exceedingly simple and fun to make.
Hats in the collection include:
Monaco Floppy Brim Hat (Pictured top in light blue): This floppy-brimmed hat is a saucy throw back to the big volume glamour hats of the late 60's and 70's. Pair it with big sunglasses and a cocktail for a swank resort-style look.
Venetian Lace Beret (Pictured in red): This versatile hat is a lacey spin on the classic wardrobe essential. Wear it when you'd like to wear a hat, but don't really need the extra warmth. It is extremely quick to work up, using only 3 wide hairpin lace strips.
Banff Winter Beanie (Pictured in blue violet): This simple and classic hat is a great example of how knitting and hairpin lace can be paired together to achieve stunning results. The hairpin lace stripe gives this sporty little beanie a unique, feminine flair.
---
Handy Hobo Handbags -
New!
Knit and Crochet Pattern
Hobo Handbags are where practicality and fashion meet, letting you carry around lots of stuff while still look sparklingly swank!
Both a knit and crochet version of this fashion favourite. Make one & your shoulder will love you for it!
Bulls Eye Hobo (Crochet): Designer Stephanie Ryan creates a simple design inspired by a bestselling designer hobo bag. A modern spin on the traditional granny square, this bag packs some extra pizzazz with the use of simple button embellishments.
Crescent Hobo (Double Knitting): Designer Jennifer Hansen has created a body-conforming crescent hobo that is knit in one piece using double knitting techniques. It is reversible and you don't need to line the thick fabric. With one side of the bag embellished with beads and the other side plain, this bag can dress up or dress down right along with you!
---
Slinky Fitted Shrug
Crochet and Knit Pattern
Add a little sparkle to your day or night! This shrug is a smart little layering garment, great for warm weather day-wear and all-year evening attire. Go glam-casual and wear this shrug with jeans and a tank to a BBQ, or go properly elegant and wear it with an evening dress to a soiree.
Not only will you look great, you will learn to simply combine knit and crochet to take advantage of the inherent strengths in each. You will use very basic crochet stitches for the base of this design, and finish by picking up knit stitches along the edge of the shrug to create a simple knitted ribbing.
---
Hairpin Lace & Knit Cardi Wraps
Crochet and Knit Pattern
Exotic diva or sleek hipster? Dressing up or impromptu-on-the-town? Spontaneous drape of a shawl, or stay-put wearability of a cardigan? Why decide if you don't have to? Introducing the cardi wrap: Half shawl – half cardigan, this clingy creation is only slightly more advanced than a scarf requiring a minimum of expertise to deliver a maximum style impact.
This ultra-versatile garment is going to become your new favourite thing to wear. With our two fully-illustrated sets of instructions, one in knit and the other in crochet hairpin lace, you will look absolutely hot, no matter how you decide to make or wear it. Your only tough choice will be deciding which is worse: The nagging friends who want one too? Or the non-stop interruption from strangers who want to find one of their own?
Hairpin Lace Cardi Wrap (Pictured in Black): Does your inner gypsy crave earthy drama? Get the look without the hassle. Belying its delicate and complex-looking results, hairpin lace is an easy crochet technique that is fast to learn and quick to work up.
Knit Cardi Wrap (Pictured in Blue): Thoroughly modern and cucumber cool. With its simple cable and dropped stitch technique, this body-conforming wrap works up quickly for its size. The sleeve shaping provides a snug and form-fitting counterpoint with its sculpted bell flare at the cuffs.
---
Crochet Hat Pattern
Crochet Pattern
A girl can't have too many hats: she needs options when her hair won't cooperate! This collection of three hats are classics, interpreted for crochet and updated for the discerning modern gal. For any season, any mood, and any outfit, there is a hat in this collection that will fit the bill. These hats are the essential collection, and you will make them again and again, year after year, for yourself and for friends.
Hats in the collection include:
Downtown Cloche (Pictured top in red and also in black and white): This cozy cloche delivers downtown-girl sophistication with a classic flair. Work it up in one colour or two and get creative with the ribbon band to create a custom look.
Page Boy (Pictured second row left): The perfect addition to your tough girl attire, our close-fitting page boy has a bit of biker spirit. Our instructions present alternatives for a felted or a non-felted brim.
Gatsby Cloche (Pictured bottom row right): Simple and pretty, strategically-placed bullion stitches give this hat a delicate touch. Perfect for a breezy summer day or a jazzy winter night.
---
Crochet Flower Pattern
Crochet Pattern
Flowers make the perfect embellishments for hats, felted bags, ponchos, sweaters, baby blankets, scarves, wraps and more! This 'toolkit' of unique and eye-catching flower designs includes 6 different flowers featured in 2 different yarn selections. We then provide you with guidelines, tips and techniques to help you make these flowers with yarns in the gauge, texture and colours of your choosing.
Whether you use scrap yarn, a treasured yarn from your stash or some of the non-yarn materials suggested - these flower patterns will provide useful assistance and is sure to become a staple in your pattern collection for years to come.
---
Decidedly Different Scarves Collection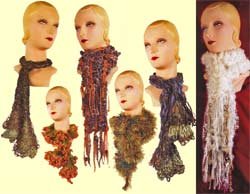 Knitting & Crochet Pattern
This collection of scarves presents three truly unique scarf designs. Part scarves, part jewellery, part wearable art - the versatility of each design is showcased by examples using two different sets of yarns selections. Two knitting patterns and one Tunisian crochet pattern is included.
For those days when you want to stand out of the crowd, these scarves are a fun way to get noticed for your creativity and style.
---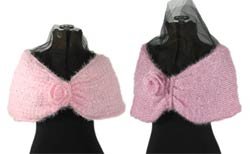 Demure Flower Capelet
Knitting & Crochet Pattern
Sweet and demure, this capelet adds a sprinkle of soft, innocent style to day or evening wear. Whether you desire the light touch of knit, or the body and texture of crochet, we provide instructions for creating this capelet using either technique. For knitters and crocheters alike, these instructions provide an easy method for a custom fit even if your gauge is a little off: a clever box pleat at the back of the capelet provides not only a foolproof fitting technique, but a touch of Jackie-O styling. Not only will this capelet fit like a glove, it will lend a classic refinement to any ensemble.
---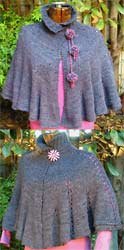 Knit Capelet Pattern - Casual Glamour Capelet
Knitting Pattern
Capelet? Think short, open poncho - a retro Hollywood Glamour mini-cape for a very "now" sophisticated look.
Just right to fight the nip in the air, this versatile flared capelet is the perfect shoulder-draping accent when you need just a little warmth with your style. Secured about the neck, the opening of this lovely capelet dramatically reveals the layer you're sporting beneath. This classic little garment is knit in one piece from the top down and requires minimal finishing. Although engineered for mostly easy, auto-pilot stitching, this project does use one or two techniques that might teach you something too.
In addition to featuring a knit-in hem collar, it uses picked-up stitches for a snug ribbed collar , delicate yarn-over increasing, and feminine short-row layers about the sides. Much of this capelet's character is defined by the closure: although we suggest options - it's ultimately up to you to get crafty with the closure in order to make this leading lady your own.
---
Knit Hats Pattern Collection
Knitting Pattern
Bad hair day? Good hair day? It doesn't matter: Try one of these knit hats on for size and you'll look pretty and poised no matter what kind of day you're having. We've taken a diverse selection of the freshest current hat styles and provide a range of skill levels and yarn suggestions to make your knitting fly. No matter what the season, just choose a yarn, grab your needles, and you'll soon be wearing a fashionable chapeau that is custom-made for your fashion situation.
Ribbon Beanie: Simply romantic, the style of this little beanie is just as relevant today as it was in the 1920's and 30's when simi liar styles were popular. A cinch to work up with bulky ribbon yarn, the beanie hat also features a clever and simple ribbon finishing technique that you are sure to use on many projects to come.
Page Boy Hat: Bored of ladylike chic? Why not go funky seventies babe with a sassy attitude to match? A perfect casual accessory, this hat is great for everyday where or attach a rhinestone brooch and you are ready for a night on the town. Bulky weight wool helps this hat work up quickly, and the felted brim is fun and easy to make.
Parisian Beanie Beret: This updated classic, part-beanie / part-beret makes the perfect fit for an array of fashion situations. Featuring a delicate stitch pattern and just-right proportions, once you work this classy beret up, you may not be able to take it off...
---
Furry Wraps Collection
Knitting & Crochet Pattern
Strut your diva style with one of these glamorous wraps! Decadently furry and deluxe, we present two luscious wrap styles that you can create using knit or crochet. Best of all, you will have lots of time to enjoy your night out since these projects are so simple, easy and fast!
Lush Ribbon Wrap: This luxurious garment is ultra-simple and fast to work. One side of this wrap is passed through a slit in the other side then neatly secured with a pretty and functional bow. The slit is made like a large, vertical buttonhole and our examples feature two interchangeable alternatives for ribbon and yarns.
Versatile Vegan Stole: Ring-shaped, this ingenious design lends itself to unlimited configurations for wear. The unique shape conforms naturally to the body, alternatively clinging and spilling over the shoulder in gentle curlicue cascades. Worn alone or with a stylish brooch, this stole clings so well you'd swear it was alive!
---
PillowTalk Exploration Collection
Cushion covers are smaller and faster than afghans, and make the perfect, quick gift for any season. The cushion covers offered in this collection present 3 very different projects requiring varying degrees of skill:
The Spiral Exploration Cushion Cover is stunning. It was designed as a freeform exercise in spirals. The instructions provided within this pattern not only present a transcription of the freeform stitches that were used, but also present guidelines to assist you with your own spiral explorations with crochet.
The Tunisian Cushion Cover is an easy and versatile project to occupy the hands while the mind roams freely elsewhere. This classic pattern will fit with any home decor. This versatile cushion cover can be easily transformed by different button and finishing options. And since it works up so quickly, you'll have time to make one for everyone on your gift list!
Opulent and ultra-feminine, the Secret Boudoir Pillow can also stand on its own as a showpiece of fiber art. Also constructed as a spiral, the stitches of the Secret Boudoir Pillow are simple: it is the finishing of the work that requires concentration and experience.
Whatever one's skill level or home decor preference, this collection of cushion covers offers an opportunity to explore new techniques and create one or more enduring jewels of colour to sprinkle about your own or a loved one's home.
---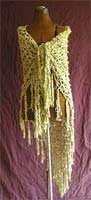 Celebrity Look-Alike Shawl Pattern
This exquisitely beautiful crochet shawl pattern can be crocheted with just 1000 yards of yarn over a weekend.
Inspired by the shawl worn by Jessica Simpson on the MTV show, "The Newlyweds", this shawl is an essential accessory for any season and a great way to achieve the modern, romantic look.
Perfect in Noro Hana Silk (On Sale too!)
---
---
Floral Mini Poncho Crochet Pattern
This feminine, breezy mini-poncho is perfect for warmer weather. It is great for providing an additional layer over a skimpy top or halter- it provides a flirty "peek-a-boo" transparency and a sporty fit for an active summer day or night. Longer in the front and back, the poncho is shorter about the arms to allow maximum range of movement. Inspired by the gorgeous mini ponchos by a leading fashion designer, this poncho can be your own custom fashion statement in the colour and fiber of your choice. Best of all, the poncho is very easy to make, and can be completed in just 5 or 6 hours!
---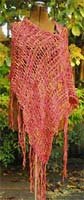 Asymmetric Poncho Crochet Pattern
One pattern - multiple ponchos! Choose a wooly thick and thin yarn for cold weather wear, or a bulky weight ribbon yarn for warmer weather and evenings:
For warmer weather and evenings this poncho is the perfect "barely-there layer" for summer and looks great with jeans and a skimpy tank top or as a cover-up at the beach.
For cold weather: Wear this poncho with a pair of boots and skirt or jeans for a warm and wonderful way to look good when the weather turns chilly.
No matter which yarn you use to work it, the poncho has a sensuous feel, a luxurious drape and looks woven instead of crocheted due to usage of Tunisian (Afghan) crochet techniques and a very large hook. Best of all, the poncho is SUPER EASY to make, you can finish the poncho in a single weekend!
Ribbon Scarves Collection
These stunning ribbon scarves can be crocheted at lightning speed. They are perfect accessories for spring and summer:
They are light and shimmery, appropriate for both day and evening wear.
Along with shawls and ponchos, scarves are the "it" accessory of the season, they transform your ordinary outfit into the extraordinary.
Just check out what the celebs are wearing - chances are that whatever they're wearing, they're pairing with a long, dramatic scarf, wrapped once tightly around the neck with ends draping down to the waist, hips or even below the knees!
Reptile Scarf: The slinky green reptile scarf can be crocheted from start to finish in under 2 hours using 100 yards of ribbon and 100 yards of novelty yarn. Long and dramatic - this scarf steals the show!
Wet Ropes Scarf: This scarf can be crocheted in under an hour using only 50 yards each of ribbon yarn and novelty yarn. Well-suited for daytime wear at the office with a power suit, it would look equally stunning with a simple strapless dress for evening wear. The scarf is constructed as a connected series of "ropes" that can be artfully arranged into different drapes around your neck and shoulders.
Lipstick Diva Scarf: This scarf can be crocheted in about 3 hours using 100 yards each of ribbon and novelty yarn. You make a statement with the lipstick diva scarf the moment you enter the room. The scarf is quirky, flirty and fun.
---
Outerwear Corset Crochet Pattern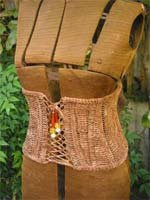 The corset has been used for centuries as an undergarment. The historic practice of accentuating the feminine waist has made a comeback- this time as outerwear. Similar to the corsets appearing on runways this season, this corset is meant to be worn much like a belt, over a tailored stretch shirt or a skimpy tank top.
Not only does it define the waist, it gently flattens the tummy, providing the flat abs one may not have the time or discipline to acquire at the gym. This corset is crocheted over boning by using a mix of standard and Tunisian crochet techniques. The rows of Tunisian Crochet serve to provide firm structure, while the rows of standard crochet not only provide textural counterpoint, but provide openness and ventilation to the design as well.