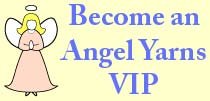 What's New May
Archive
Earlier 'What's New' page here...
August September October November December January February March April
Sale:
Elle Yarns - 35% OFF!!
Lanartus - 35% OFF!!
Jaeger Celeste - 40% OFF
Jaeger Mohair Art - 40% OFF
Lana Grossa:
Sock Yarns - We've now started to add the Lana Grossa range of sock yarns, gorgeous!
Wendy:
Knitit - Lovely tape yarn
Moiselle - We think this one will be very popular!
Angel
Kilt Pins - Our own range of kilt pins
Knitting Needles:
Children's Knitting Needles - We've been asked for these a lot!
Oi Oi Bags:
Knitting Bags - Wow! We fell in love with these!
Jaeger:
Jaeger Roma - Deliciously soft yarn from Jaeger
RYC:
Natural Silk Aran - Gorgeous soft and silky yarn
Luxury Cotton DK - Silky and sophisticated cotton, viscose and silk blend
Noro:
Hana Silk - Wow! Lovely silk yarn from Noro