Crochet Designs: 25 Must-have Items to Make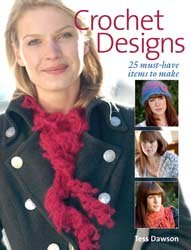 The book contains 25 fresh, modern designs for all occasions including: scarves, shrugs, summer tops, bags, hats, ponchos and more! Beginners will find all they need to know to complete the projects; there is a comprehensive chapter on yarns, explaining the varying thicknesses and recommended substitutes, advice on crochet hooks, including the benefits of different types of sizes, plus a fully illustrated guide to all the techniques.
This book is ideal for those who enjoy crochet or wish to learn how it's done. Crocheters of all levels of experience will find the book full of wonderful projects that are contemporary and rival anything from the high street.