Single Cast-On
After you've made your slipknot here's how to get the first stitches onto the knitting needles.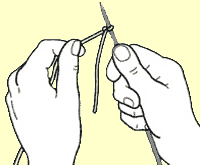 Holding the knitting needle in your right hand, slide the newly made slipknot onto the needle. Pull gently on the yarn to tighten the slipknot so it doesn't fall off. You may want to keep your finger on it to be safe.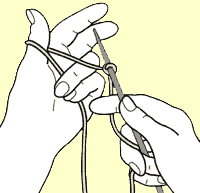 Lay the yarn attached to the ball in your left hand, slipping it around your thumb and holding it in place with the fingers of your left hand. If you arch your thumb slightly this will create a little tension.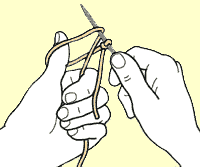 Move the needle to the right of your left thumb and then slip the needle tip under the strand of yarn that is in your palm.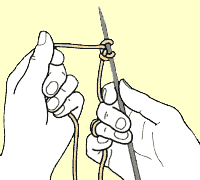 Let the yarn slip off your thumb and pull gently to tighten the new stitch on the needle.
Repeat these steps until you have the number of stitches you need to cast on, as indicated by your project instructions.
Now you're ready to continue with one of the two basic stitches, the knit or purl stitch.