Aluminium and Bamboo Double Pointed Needles
Addi's aluminium and bamboo double pointed needles are a joy to knit with.

The high quality aluminum are smooth grey, light and easy to knit with and the bamboo are extremely light and truly superb.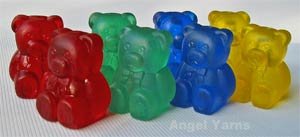 Addi Needle Huggers
Let these cute bears guard your stitches in your absence!
With 8 huggers in the box the little bears slip onto the end of your needles and stop the stitches coming off. You can use them on any type of needle - circular, double pointed or regular straight ones.
There are 4 sizes of hugger in the pack and they are colour coded according to needle size. Each hugger has a hole in the base into which you slip the needle point with each pair a different size to fit a variety of sizes.
The box has the details of the color coding on the reverse.
---

Addi DPNS with Needle Huggers - 5 Needles & 2 Huggers
---
All prices include VAT at 15% - VAT is deductible for Overseas orders
Double Pointed Aluminium 20cms/8ins with Huggers

Double Pointed Champagne 20cms/8ins
Double Pointed Aluminium 20cms/8ins
Bamboo Double Pointed 20cms/8ins