Circular Needles, Brass Nickel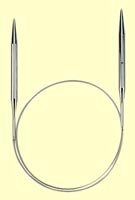 Circular needles are becoming more and more popular and the Addi turbo circular knitting needles are the best selling needles in the range. Circulars work just like straight needles with the same technique but the benefits are better weight distribution of the knitted item (which reduces the tension on your wrists) and the added joy of never searching for that missing straight needle down the side of the sofa!

Addi turbo circular needles are made of hollow brass and have perfectly shaped tips that are nickel plated. The lightweight tips allow the stitches to glide over for fast, comfortable and quiet knitting.
We now have the 30cm length that is just perfect for knitting socks on the round.
Please Note: Supplies of Addi needles are terribly intermittent so we recommend contacting us before placing an order.
All prices include VAT at 15% - VAT is deductible for Overseas orders
Circular 30cms/12ins - 1 per pack
Circular 40cms/16ins - 1 per pack
Circular 60cms/24ins - 1 per pack
Circular 80cms/32ins - 1 per pack
Circular 100cms/40ins - 1 per pack