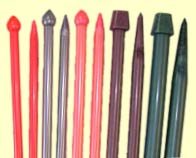 Everyone's Favourite - Pearl Needles
Less slippery (and less hard on the hands) than metal, and Pony Pearls aren't as "sticky" as wood. They are plastic but the smaller sizes have a metal insert to keep them in shape.
If you find wood needles a little too slow and metal too hard or too likely to drop stitches, you might want to try these.
Each size has it's own colour so you'll soon know them off by heart.

---
14 Inch Needles
All prices include VAT at 15% - VAT is deductible for Overseas orders