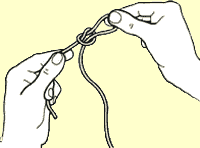 Hold the tail of the yarn in your left hand and the newly made loop in your right hand. Pull the tail to tighten and make your slipknot!
To prepare for casting on, leave an extra long tail when making the slip knot.
This is your first stitch, Next - Cast-On...