Surina Wood Fancy Knitting Needles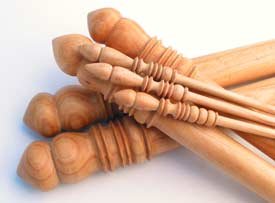 Surina needles are made from the elegant surina tree, also known as the "elegant tree".
Tall and very straight, the trees have tiny branches and produce wood that is hard yet light, red in colour and very suitable for woodturning. Highly trained artisans turn this exquisite wood into exceptional decorative fancy knitting needles, highlighting the natural grain, and smoothness of the wood
Your surina wood knitting needles may differ slightly from photo.
Surina wood needles are just exceptional and have been featured in many knitting magazines.
---

All prices include VAT at 15% - VAT is deductible for Overseas orders
Surina Double Pointed Knitting Needles
Please Note:
These needles are very delicate and may split at the end.
With a little TLC and a nail file they can be as good as new.