NEW - Surina Wooden Crochet Hooks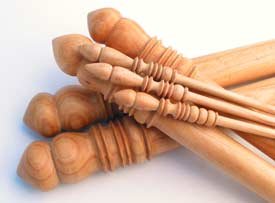 Surina hooks are made from the elegant surina tree, also known as the "elegant tree".
Tall and very straight, the trees have tiny branches and produce wood that is hard yet light, pinky red in colour and very suitable for woodturning. Highly trained artisans turn this exquisite wood into exceptional decorative crochet hooks, highlighting the natural grain, and smoothness of the wood.
May differ slightly from photo.
We think you'll agree with us that the surina hooks are just exceptional!
---

All prices include VAT at 15% - VAT is deductible for Overseas orders
Tunisian Crochet Hooks made Exclusively for Angel Yarns
Tunisian crochet, also known as Afghan crochet, uses an elongated hook with a stopper on the handle end.
In Afghan crochet, each row is worked in two halves: the first half is worked from right to left and the second half from left to right. Work is never turned.
After the starting chain is completed, the first row is worked by inserting the hook in the chain, pulling a loop from the free end of the yarn, and inserting the hook in the next chain without working the loop off the hook. At the end of the row, you will have as many loops on the hook as there are stitches across. In the second half of the row, you will work the loops off the hook.
This type of crochet creates a dense fabric with a definite front and back side. It is ideal as a base for cross-stitch.