Tess Dawson's Funky Scarf Kit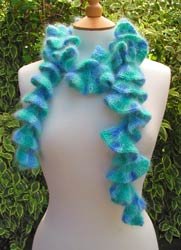 Funky scarf in our own fabulously soft variegated English angora.
Deceptively easy to make - if you can crochet a treble stitch you can make this scarf! The blue colourway on this page was crocheted by someone who is relatively new to crochet so you will be fine.
Totally unique, you won't find this in the shops!
Click picture for a better view.
See all the Varigated Angora colourways here...